Daytrotter Session - Sep 3, 2012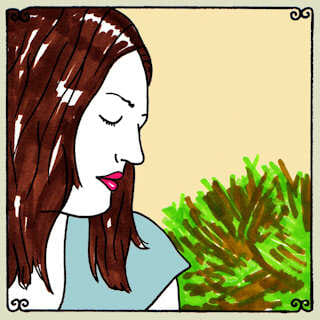 Veronica
Dark Horse
Meet You At The Window
Drew You A Line
It's just one long walk. It can be a slog. It can be a bulleted one. It can be a burden or an exasperating feast. It can be nothing but colors and textures, hands, arms, legs, cheeks and lips. It can be the paint on a wall or the long hot days sweating through another mowing. It can be a ride with the top down or it can be sitting in an exhaust-smelling city bus for longer than you deserve, just trying to get home for a little dinner and a chance to tuck the kids into bed. Natalie Hayden, a singer and songwriter from Australia, gives us some reminders of the bind that we find ourselves in every moment of every day – of having to find our way with and all of this shit.
She sings so sweetly about these solemn moments, when we realize that, once again, our body has woken us up before our alarm and we're already up to our knees in what we cast aside the night before when we flicked out the light and hit the sack. It's the thrilling conclusion of what came before, though there's never any conclusion and even the thrilling portions of any of it are neutralized by what we have to give up or give over to reach them. The rays of light are ours for a price.
She sings, "First there's wailing/Then you walk/You start talking/You pull that dog's tail/And not knowing the danger in that/And now comes consequence/To counteract/Pulled across the years/We go/Next there's swimming/To save your life/But you stop breathing when your anxiety is high/And these wakes of suffering will pass by/And now comes darkness to fall upon light/And pulled across the years we go." It makes it all seem like such a rapid progression, to hear it that way. It makes you want to catch your breath and ask it where it's off to, what spooked it so.
W3 Total Cache is currently running in Pro version Development mode.