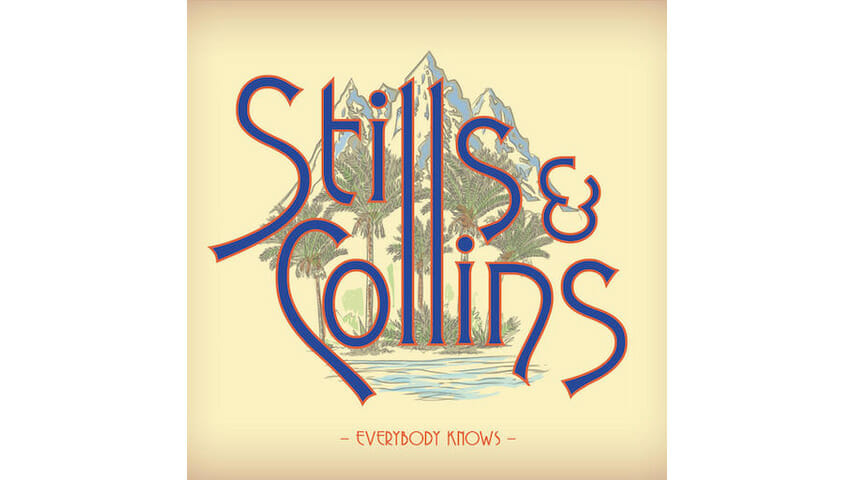 It's been 50 years since Stephen Stills and Judy Collins were fresh-faced, wide-eyed folkies ready to take on the music world. As two of the dominant voices of then-burgeoning Sunset Strip, the duo's songwriting and distinct singing abilities put Los Angeles folk rock at the center of the music universe, and for a year during the late '60s, became romantically entangled.
Joining forces on an album was long overdue for the folk rock legends.Everybody Knows, a covers album that primarily features unreleased and lesser-known songs from their catalog, should have been an easy undertaking. Even at this advanced stage in their respective careers, an album focusing on the past made more sense than cobbling together a potentially substandard collection of originals. Unfortunately, Everybody Knows is the sound of two classic artists playing the 18th hole of their intertwined and decorated careers.
Unlike the meticulous work of their past, this collaborative album is painstakingly directionless. Beginning with a rudderless take on the Traveling Wilburys' "Handle With Care," Stills' take on George Harrison's lead vocal is painfully flat and is a shocking fall from a singer who once soared so effortlessly on "Love The One You're With." Collins manages to tackle Roy Orbison's bridge harmonies admirably, but by that point, the song is a muddled mess.
Sticking to softer folk rock songs that better hid the duo's deficiencies would have. It may have led to more conservative song choices, but the result would have been better. "Girl From the North Country," a song Bob Dylan and Johnny Cash beautifully and urgently sang on Nashville Skyline (Dylan's solo version on The Freewheelin' Bob Dylan is wonderfully longing in its own right), is so off-key that it's tough to follow along with the lyrics. Focusing on songs with shared vocal responsibilities makes sense in order to satisfy egos, yet that is the album's ultimate downfall. The 72-year-old Stills attempts to keep up with his longtime friend, however, he's unequipped to do so at this stage of his career.
Meanwhile, Collins tries to salvage Everybody Knows. The album's few memorable moments are when the 78-year-old Collins is the primary singer. "River of Gold," a new Collins composition sees her showcase her radiant vocals, as does the Stills-penned "So Begins the Task." Their earnest take on Leonard Cohen's gravelly voiced title track has a warmth that would have impressed the Canadian bard.
Since the late '60s, folkies had longed for a collaborative album from Stills and Collins, which was long overdue. What could have been a nice parting gift from two legends from the '60s ended up being the opposite. If nothing else, this album illuminates how strong of vocalists and essential songwriters Stills and Collins were when they were at their pinnacle over 40 years ago. Everybody Knows is an unpleasant reminder that even the greatest singers and songwriters are sometimes unable to age gracefully.