Watch Stevie Ray Vaughan Tear Through "Couldn't Stand the Weather"
From the vault: On Sept. 21, 1985, Double Trouble came to New Jersey.
Music
Features
Stevie Ray Vaughan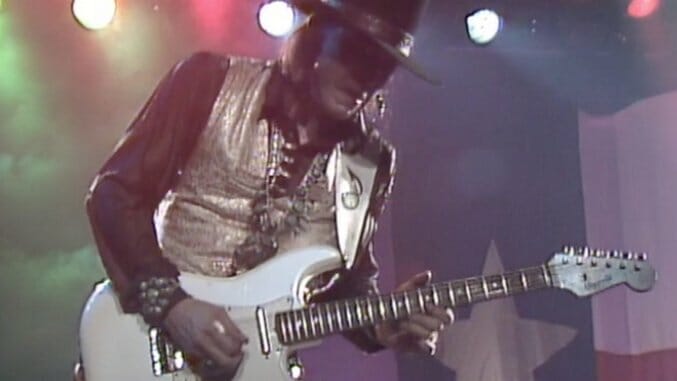 Did you know that Paste owns the world's largest collection of live music recordings? It's true! And what's even crazier, it's all free—hundreds of thousands of exclusive songs, concerts and videos that you can listen to and watch right here at Paste.com, from Louis Armstrong to The Who to U2 to Wilco. Every day, we'll dig through the archive to find the coolest recording we have from that date in history. Search and enjoy!
The late Texas blues master Stevie Ray Vaughan was so good live that we here at Paste dedicated an entire list to his best performances.
But even that could hardly contain all the shredding that Vaughan managed to pack into his brief life. That's why, when we found this nearly seven-minute video of a 31-year-old Vaughan playing at Passaic, N.J.'s Capitol Theatre on Sept. 21, 1985, in our archives, we had to share.
On "Couldn't Stand the Weather," the title track on Vaughan's second album, released in 1984, Double Trouble (with drummer Chris Layton and bassist Tommy Shannon) lays down the funky intro, building a door to the song so Vaughan and his white Stratocaster can kick it in. Between the gambler hats, synchronized guitar sways and enormous Texas flag as a backdrop, the whole video is a prime cut of '80s Lone Star nostalgia.