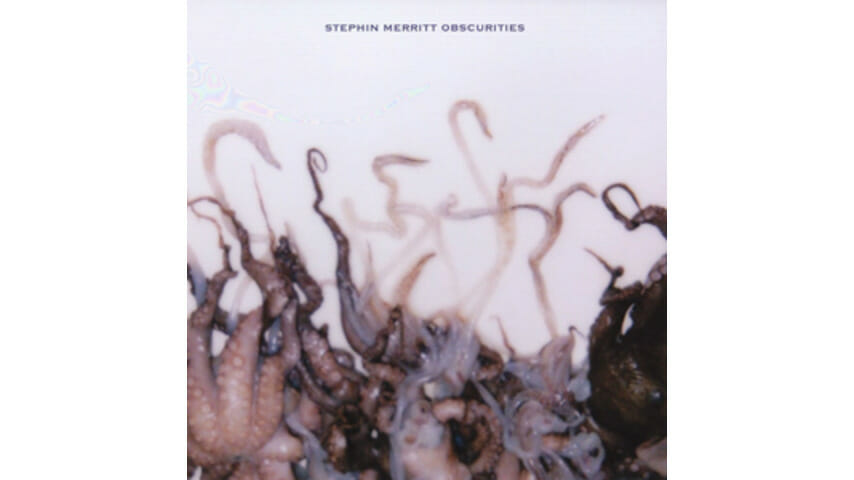 The old adage about odds and sods collections like Obscurities—which, perhaps fittingly, marks Stephin Merritt and his Magnetic Fields' return to Merge Records, where both first made their names—is that they're only for completists and obsessives. That they usually comprise weird or somehow "less good" compositions, outtakes that weren't A-list enough to make their way onto proper albums and instead get dumped onto compilations like this, often as a way to fulfill label contracts or simply serve as vanity projects.
This is only sort of true with regards to Obscurities, which contains a mere five unreleased songs, and as such, maybe shouldn't be called Obscurities in this age of torrents and Mediafire links. Which isn't to say the stuff included here is less than top notch. In addition to the handful of songs finding first release on this comp, Obscurities includes tracks from various Merritt side projects The 6ths, Buffalo Rome and The Gothic Archies, making it a pretty essential release for anyone who considers themselves a MagFields/Merritt fanatic.
While nothing on Obscurities is outright bad, certain songs definitely stand out above the rest. "Rats in the Garbage of the Western World," a Magnetic Fields 7" vinyl b-side from 1995, is glorious in it electronic cacophony and dark lyrics. "Plant White Roses," credited to Buffalo Rome, an early name for the Magnetic Fields, is a spare, ridiculously heartbreaking country/folk tune sung by Shirley Simms. Elsewhere, songs from The 6ths ("Rot in the Sun," "Yet Another Girl") and Magnetic Fields proper ("I Don't Believe You," "Take Ecstasy With Me") are clear highlights. Sure, it's a bit of a grab bag overall, but Obscurities will please hardcore fans and serves as a nice holdover until Magnetic Fields makes its official Merge return with a new full-length in 2012.