Daytrotter Session - Apr 17, 2012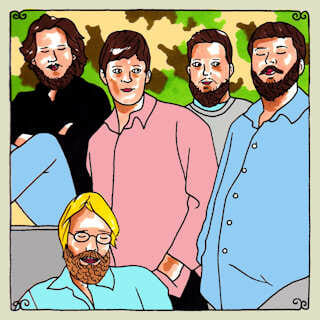 Between Midnight And The Dawn
Long Shot
Natural Disaster
Nobody Knows You
Rescue Me
The last two nights, around these parts, have been quite a lot like the atmosphere in many of the songs on the Grammy-nominated Steep Canyon Rangers' latest record, "Nobody Knows You." The bluegrass boys from Brevard, North Carolina, seem to know their ways around thunderstorms and those spring and summer nights, when scary things just cook up out of nowhere. The air gets unstable and it just decides to make one big, dark tantrum, doing whatever it can think of to rid itself of that upset tummy it's got. The humidity has gotten to it and it's provoked into a storm that shatters the night. The thunder pounds down like sentence, hammering the panes and the glass of your windows, as if the real desire was to rattle everything down to the ground – doing whatever it can to make up for not having any paws to just tear the walls to pieces. The lightning streaks jaggedly across the night like a bunch of skittering mistakes, lighting up the violence so you're well aware that it's arrived.
The way that the Steep Canyon Rangers frame their storms is to make them the most accurate analogies to describe matters of the heart that they can think of. It's these powerful reminders of whose absolutely not and who absolutely is in control when love's concerned. It's not any of us, so it must surely be someone or something hiding behind these impressive bolts and the resounding and echoing booming that's like a half-dozen locomotives crashing head-on at precisely the same moment.
Lead singer and guitarist Woody Platt, banjo player, main songwriter and vocalist Graham Sharp, mandolin player and vocalist Mike Guggino, bassist and vocalist Charles R. Humphrey III, and fiddle player, vocalist Nicky Sanders use the construct of these tumultuous, but usually harmless (just wet and disruptive to alarm clocks keeping the correct time on their faces) weather events to describe the insides of most people when they're affected by love. Desire is the cause of massive flooding in these mountain-esque songs. It pops the buttons on vests and flannel shirts and somehow even gets the zippers on the backs of dresses to slither down some, all the while, the rest of the body is never quite as sure and might even want to just stay in bed, with the covers pulled up over their heads.
On "Natural Disaster," Platt sings that you "feel your soul and feel your heart shake like an earthquake," on a night when the "storms" are moving in. "Summer Winds," is a song that visits a similar sentiment, as Platt sings, "Lay down your pride every time the lightning strikes/Tell her the rain ain't cold while you're trembling inside/You're on your own/You're on your own." Usually, these things only get so rough. You pick up a few branches in your lawn, the morning after and you reap the benefit of a greener and longer lawn, but somehow the trembling inside knows that it can stick around for as long as it wants.
W3 Total Cache is currently running in Pro version Development mode.