Watch St. Vincent Cover Lou Reed's "Perfect Day" at Recent MassEducation Performance
Images via Andrew Toth/Getty, Loma Vista Recordings
Music
News
St. Vincent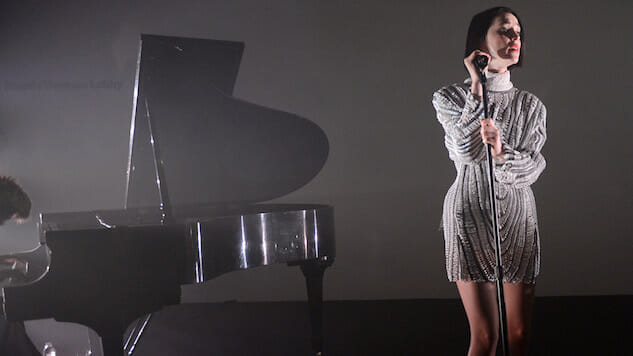 During one of her recent MassEducation performances in Brooklyn, St. Vincent performed an emotional cover of Lou Reed's "Perfect Day."
First released on Reed's Transformer LP back in 1972, the piano-based track is jazzy and dragging as Reed describes his perfect day. While the original eventually adds on a few synth accents and lives up to the glam-rock descriptor often associated with the '72 LP, Annie Clark's cover contains nothing of the sort, and is simply artist and piano (played by collaborator Thomas Bartlett).
The show during which the duo performed "Perfect Day" was held at the Brooklyn Academy of Music and consisted of performances of MassEducation tracks, as well as a few older hits, such as 2011's "Cheerleader." Announced via handwritten letter last month, MassEducation is a compilation of stripped-back, piano-based remimaginings of tracks from last year's MASSEDUCTION, playing on the often-mispronounced title of the latter. It was recorded over the course of two days, purely a collaboration between Clark and Bartlett, and released on Oct. 12.
Check out the cover of "Perfect Day" and the performance of "Cheerleader" below, and a 2009 St. Vincent performance from the Paste archives further down.