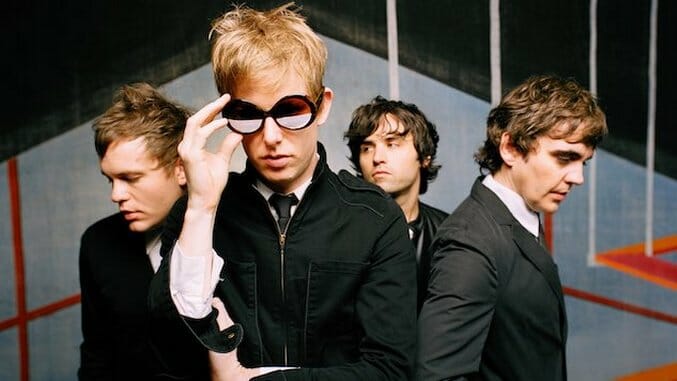 Spoon have a treat for their ride-or-die fans: The rockers will be reissuing their record Ga Ga Ga Ga Ga in celebration of the album's 10th anniversary.
Originally recorded in 2006 and released in 2007, Ga Ga Ga Ga Ga is lauded as one of Spoon's best albums—it came in at number two on our list. With the exception of "The Underdog" (which was recorded in Los Angeles with Jon Brion), the entirety of the album was recorded in Austin, Texas, with Mike McCarthy. With tracks like "The Ghost of You Lingers" and "You Got Yr. Cherry Bomb," Ga Ga Ga Ga Ga is an indie-rock classic. The reissue has been mastered by veteran engineer Howie Weinberg and will include the EP Get Nice!, previously only available as a bonus CD.
Ga Ga Ga Ga Ga's reissue will be released on Oct. 20 via Merge Records. You preorder it here, see the tracklist below, check out our top 12 Spoon songs here and listen to a Spoon session from the Paste Cloud below.
Ga Ga Ga Ga Ga Tracklist:
01. Don't Make Me a Target
02. The Ghost of You Lingers
03. You Got Yr. Cherry Bomb
04. Don't You Evah
05. Rhthm & Soul
06. Eddie's Ragga
07. The Underdog
08. My Little Japanese Cigarette Case
09. Finer Feelings
10. Black Like Me
Get Nice! Bonus 12-inch Tracklist:
01. I Got Mine
02. Be Still My Servant
03. Leave Your Effects Where They're Easily Seen
04. I Summon You (Cool)
05. Mean Mad Margaret
06. Love Makes You Feel
07. You Got Yr. Cherry Bomb
08. Tasty Fish
09. Dracula's Cigarette
10. 1975
11. I Can Feel It Fade Like An AM Single
12. Curfew Tolls