Sound On Sound Fest 2017 Features Yeah Yeah Yeahs, Grizzly Bear, The Shins
Yeah Yeah Yeahs' set will be their first show in four years.
Photos by Trixie Textor/Getty, Simone Joyner/Getty
Music
News
Sound On Sound Fest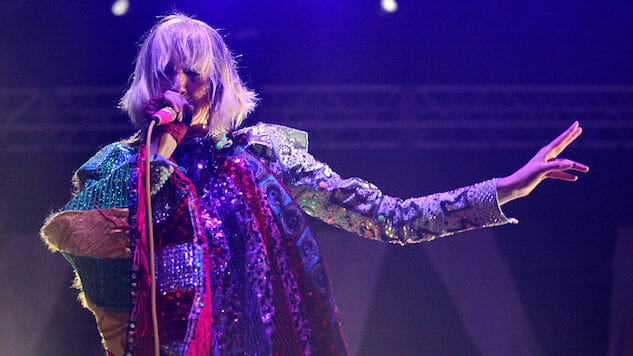 The 2017 lineup for Sound On Sound Fest has been unveiled. Artists including Yeah Yeah Yeahs, Grizzly Bear, The Shins, Blood Orange, Vince Staples and Washed Out will perform at the Austin-based festival. This year's Sound On Sound will take place in Sherwood Forest from Nov. 10-12. Ticket purchases will benefit the Health Alliance for Austin Musicians.
Perhaps the most exciting band on the lineup is headliner Yeah Yeah Yeahs. This marks the indie rockers' first performance in four years since they toured in support of the release of 2013's Mosquito. Another equally thrilling inclusion is Grizzly Bear, the artist gracing the cover of Paste Quarterly issue two.
This is the second year of Sound On Sound Fest, after it replaced the Fun Fun Fun Fest. Some of the smaller acts on the bill include Twin Peaks, Sorority Noise, Kamau, The Hotelier, Alex Napping, Cherry Glazerr and Kydd Jones.
See the lineup poster and text below, and find ticket information here. Also, check out our 10 favorite Yeah Yeah Yeahs songs (circa 2013) right here, and a Grizzly Bear performance from the Paste Cloud below.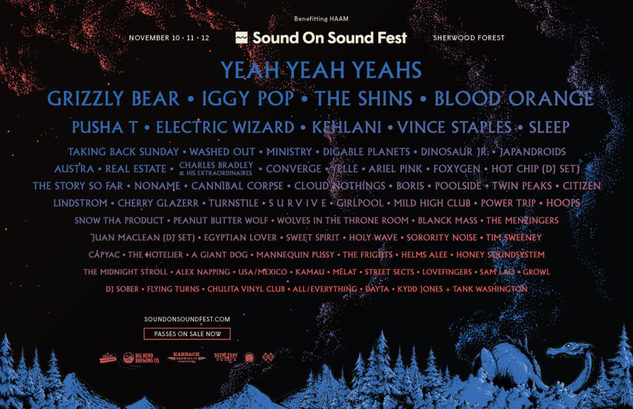 YEAH YEAH YEAHS
Grizzly Bear
Iggy Pop
Blood Orange
The Shins
Electric Wizard
Pusha T
Kehlani
Sleep
Vince Staples
Taking Back Sunday
Washed Out
Dinosaur Jr.
Ministry
Digable Planets
Charles Bradley & His Extraordinaires
Japandroids
Austra
Real Estate
Converge
Yelle
Ariel Pink
The Story So Far
NONAME
Foxygen
Cannibal Corpse
Hot Chip (DJ Set)
Cloud Nothings
Boris
Poolside
Twin Peaks
Citizen
Lindstrom
Cherry Glazerr
Turnstile
S U R V I V E
Girlpool
Power Trip
Snow Tha Product
Mild High Club
Wolves in the Throne Room
Blanck Mass
Hoops
The Menzingers
Egyptian Lover
Sweet Spirit
The Hotelier
Juan Maclean (DJ Set)
Capyac
Sorority Noise
Peanut Butter Wolf
Holy Wave
Mannequin Pussy
Tim Sweeney
The Frights
Helms Alee
Honey Sound System
A Giant Dog
USA/Mexico
Kamau
Alex Napping
Street Sects
Lovefingers
Growl
Mélat
Sam Lao
DJ Sober
Flying Turns
Chulita Vinyl Club
All/Everything
Dayuta
Kydd Jones
Tank Washington