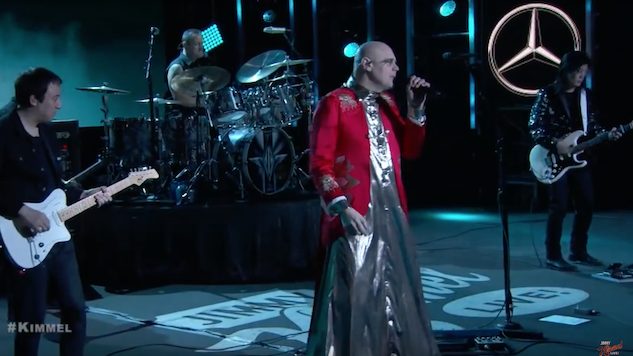 Smashing Pumpkins brought Shiny and Oh So Bright: Vol 1 to Jimmy Kimmel Live! on Tuesday night, performing two tracks as part of Kimmel's Mercedes Benz Concert Series.
The band's not-quite-reunion album (featuring original members Billy Corgan, James Iha and Jimmy Chamberlin, but missing D'Arcy Wretzky) was their first release with those founding members in 18 years. This year has been a busy one for the Pumpkins, who celebrated their 30th anniversary in August before setting off on the Shiny and Oh So Bright Tour, which set another landmark as the band's first in over 20 years with the current lineup. In the midst of all of this, the band released two music videos, "Solara" and Silvery Sometimes (Ghosts), and the latter has clearly provided some live inspiration to the band, as vocalist Corgan donned a similar look for last night's performance.
On Kimmel, the Pumpkins performed "Silvery Sometimes (Ghosts)" and "Knights of Malta." The performances were fairly laid-back—it's not the '90s anymore—but even 30 years in, they've definitely still got it.
Check out the performances below, plus a 1997 Pumpkins performance from the Paste archives.