Smashing Pumpkins Announce First New Album in 18 Years, Share New Single
It's the first LP to feature founding members Billy Corgan, James Iha and Jimmy Chamberlin since 2000
Photo by Linda Strawberry
Music
News
Smashing Pumpkins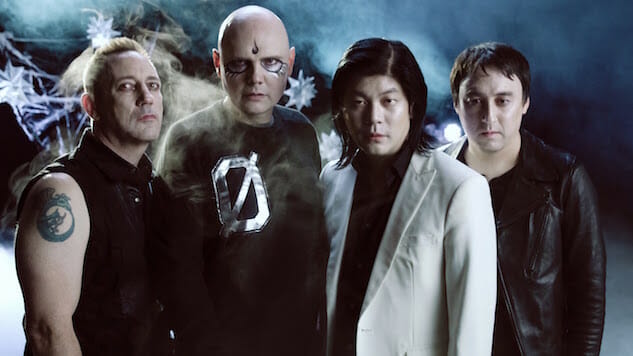 Coming as no surprise to eagle-eyed fans who have been predicting such an announcement since the first whispers of the band's semi-reunion, Smashing Pumpkins have finally announced the upcoming release of their long-awaited new LP, Shiny and Oh So Bright, Vol. 1/LP: No Past. No Future. No Sun.
The LP marks the first new album featuring founding members Billy Corgan, James Iha and Jimmy Chamberlin in over 18 years. The original members were joined by long-time guitarist Jeff Schroeder for the endeavor.
Paired with the announcement was the second single from the LP, "Silvery Sometimes (Ghosts)." The single is bright, steady, driving and reminiscent of the band's earlier eras. It follows "Solara," the band's existential first single, put out this past June.
The album is set for release on Nov. 16. It was produced by the legendary Rick Rubin at Shangri La Studios in Malibu, and will be released on Corgan's own Martha's Music. It follows the band's Shiny and Oh So Bright tour, another first in nearly two decades to feature the aforementioned founding members.
A music video for "Silvery Sometimes (Ghosts)"—directed by Corgan—is coming soon. For now, check out the lyric video for the track below, plus a 1997 Pumpkins performance from the Paste archives, and find the new album's tracklist and artwork further down.
Shiny and Oh So Bright, Vol. 1/LP: No Past. No Future. No Sun. Tracklist:
01. Knights of Malta
02. Silvery Sometimes (Ghosts)
03. Travels
04. Solara
05. Alienation
06. Marchin' On
07. With Sympathy
08. Seek And You Shall Destroy
Shiny and Oh So Bright, Vol. 1/LP: No Past. No Future. No Sun. Album Art: