Sleater-Kinney's New Single "Can I Go On" Is a Cheerful Take on Self-Annihilation
Photo by Nikko LaMere
Music
News
Sleater-Kinney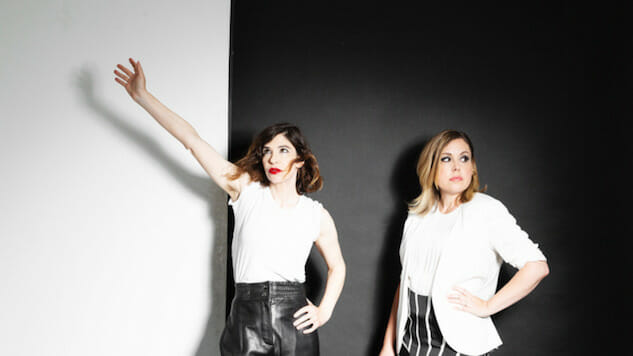 Sleater-Kinney have unleashed another track from their forthcoming album, The Center Won't Hold, and it slaps. "Can I Go On" is arguably the most upbeat taster we've heard so far, but the jaunty mix of St. Vincent-esque guitar noodling and a throw-your-hands-in-the-air chorus belies some twisted emotions simmering underneath. Take a listen to that hook again: "Maybe I'm not sure I wanna go on at all" is no "Here comes the sun."
Guitarist-vocalist Carrie Brownstein outlines the new track's story in a statement:
In this song, a woman's desire is used against her, so she turns it into a sinister infectiousness. The narrator finds herself on the brink of self-annihilation, grappling with the paradox of an internal darkness at odds with the pressure to outwardly perform modes of joy, relatability and likability.
"Can I Go On" is the fourth cut from The Center Won't Hold, a St. Vincent-produced set scheduled for release Aug. 16 on Mom + Pop Music and available for preorder here. Watch the lyric video for "Can I Go On" down below.
Sleater-Kinney are touring extensively starting this October, though they'll do so without their recently departed drummer Janet Weiss, who's heading out on a fall tour with Quasi. Check out Sleater-Kinney's full itinerary here.