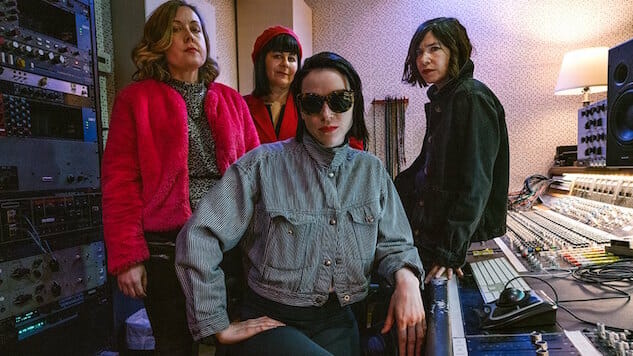 "Everything We Know about … " is Paste's series of deep dives into the forthcoming projects we're most excited about. Explore them all here.
It's daunting to follow an album with as much widespread acclaim as Sleater-Kinney's 2015 LP No Cities to Love. However, the veteran feminist rockers have consistently proven over the years that they're not afraid to step up to the plate. Carrie Brownstein, Corin Tucker and Janet Weiss are reuniting after a few years spent focused on their own projects. Here's a look at everything we know so far about their forthcoming, St. Vincent-produced record.
---
What Have the Band Members Been up To?
Besides touring in support of No Cities to Love since 2015, the three-piece also released their 2017 live album Sleater-Kinney: Live in Paris.
As for solo work, Tucker's been keeping busy as singer/guitarist for supergroup Filthy Friends. The band originally formed in 2012, with a lineup rounded out by R.E.M.'s Peter Buck, Linda Pitmon of The Baseball Project and Steve Wynn & The Miracle 3, Kurt Bloch and Scott McCaughey of the Minus 5, and Bill Rieflin of King Crimson. Their debut album Invitation came out in 2017.
Weiss has been behind the drum kit for her other band Slang, with singer/guitarist Drew Grow (Modern Kin and Drew Grow and the Pastors Wives), ex-Thermals bassist Kathy Foster, and Anita Lee Elliott of Viva Voce and Blue Giant. Slang's new single "Wilder" was released earlier this month, with an accompanying video made by Weiss herself. According to Brooklyn Vegan, the L.A. native also drummed for Foster's solo project Roseblood.
Brownstein's mostly kept out of the music world, instead making strides in literary circles with her 2015 memoir Hunger Makes Me A Modern Girl. She's also continued her foray into the acting world, appearing recently in Carol, The Oath and Don't Worry, He Won't Get Far on Foot. The former Wild Flag member wrapped up Portlandia in March of last year after its eighth season.
What Will It Sound Like?
Will this as-yet-untitled album see the band return to their punk-inspired sound? St. Vincent's role as their new producer makes us think otherwise. The world-rocking photo announcing their collaboration promises a possible new evolutionary phase of their sound, as Annie Clark's music constantly delivers surprises.
Sleater-Kinney. Produced by @st_vincent. 2019. pic.twitter.com/IOSAbskUxs

— Carrie Brownstein (@Carrie_Rachel) January 8, 2019
However, Clark said a Rolling Stone interview that she considers their last album No Cities to Love the "crowning jewel in their legacy," signaling that maybe the band won't be venturing too far from their indie-rock roots. The legendary, riot grrrl-influenced group and the avant-garde artist have one vital common characteristic: They are not easy listening. Their music is made with wailing guitars, chunky chords and clear voices raised against the powers that be.
When Will It Be out?
The photo showing the band members and their producer together in studio is captioned "Sleater-Kinney. Produced by St. Vincent. 2019." So all we can expect for now is that the record will be out by the end of the year.
However, in a 2018 Billboard interview in which Brownstein first teased the forthcoming album, she said, "Now, just so you know, we're going to do this very slowly."
Tucker replied to a Sleater-Kinney fan's tweet in November 2018, saying only that she and the rest of the band were "Working on it!"
Working on it! https://t.co/X4EpnXYeZE

— Corin Tucker (@corintuckerband) November 2, 2018
Tucker also noted in a mid-January reply to a fan that the album is still being written, tweeting, "Lyrics not done!"
I would be grateful for your continued prayers for the strength of our album. Lyrics not done!

— Corin Tucker (@corintuckerband) January 16, 2019
In short, we're anticipating that the album is still a ways away from release.
---
Watch this space for further updates on Sleater-Kinney's latest. If you're champing at the bit in the meantime, there's plenty to tide you over, including our 2015 profile of Brownstein.