The Spirit of Janis Joplin is Alive and Well at SXSW 2019
Meet Katie Pruitt, Sidney Gish and the women who are the channeling the heck out of Janis Joplin at South By
Photo by Sami Wideberg
Music
Features
Sidney Gish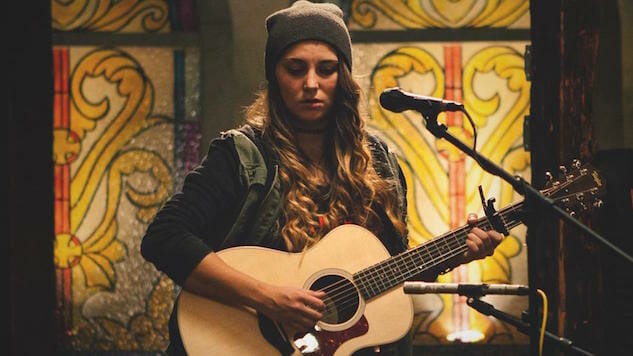 I recently read that the magic of South By Southwest happens when you suddenly realize you're exactly in the right place at the right time. If you've ever been to SXSW, you know there are many, many places in which you could be at any given moment— the options, from official and unofficial showcases to panels and taco trucks and so much more, are overwhelming to put it lightly. So finding a little nugget of serendipitous contentment is special, if rare.
My moment happened Wednesday afternoon as I was standing a few feet from the stage at Stereogum's Range Life showcase at Cheer Up Charlie's on Red River Street, when a young musician by the name of Sidney Gish knocked me clean off my feet. Granted, I was already familiar with the singer/songwriter and Northeastern University student because her sophomore album, No Dogs Allowed, released on New Year's Eve in 2017, was one of my favorites from last year. I knew Gish to be a talented lyricist (perhaps even one of the most underrated out there, at the moment), but I didn't know she's a stomp-down fantastic performer.
Maybe it's an easy one, but the best human comparison I can think of for what I witnessed Wednesday afternoon is Janis Joplin. Gish and Joplin both sing with the same feverish, antsy vigor—I'm not sure if Joplin's an influence, but Gish certainly channeled that energy throughout the set. She recorded No Dogs Allowed at her parents' house over Christmas break in 2017 where family members were around for the holidays. Two of those people, Gish's aunt and uncle, were in the crowd at Cheer Up Charlie's. She of course shouted them out, just one of many endearing moments during her fiery 30 minutes on stage. She absolutely rips on the guitar and sings with a wrenching gusto most easily comparable to Joplin's wild, beautiful style.
Gish captures all the anxiety, wonder and hilarity that comes with post-adolescence in crisp, clever verses that never feel superfluous nor cliche. But songs like "Imposter Syndrome" are applicable to any age. "Every day I'm wondering what's a human being gotta be like," she sings. It's a reminder that we're all just figuring it out.
I had my next moment on Wednesday night. I stumbled into a bar on 6th street and Joplin's spirit appeared again in the voice of one Katie Pruitt, a Nashville-based singer/songwriter from Atlanta, Ga. whose powerhouse voice and wise, beautiful modern love songs absolutely blew me away. Pruitt is far and away the most passionate performer I've seen this week, delivering her songs with that same likable, strong-willed intensity as Brandi Carile. She sounds a bit like Carlile, too, seamlessly matching up her edgy Americana grit with soft country tones. Her song "Grace Has A Gun," written about a unfavorable ex-girlfriend, is witty, sad and potent. "She had a gun under bed," Pruitt sings. "And that wasn't the most terrifying thing about her…at all." Later on in the set, another clever sound byte sticks out: "You're way too generous with all the fucks you give," she sings. Pruitt is unapologetically herself, and her energy is a welcome addition to the Americana sphere. Like Joplin, she tells stories of broken relationships and she sings with her entire face, from her core. It left me speechless. We'll be seeing a lot more of her.