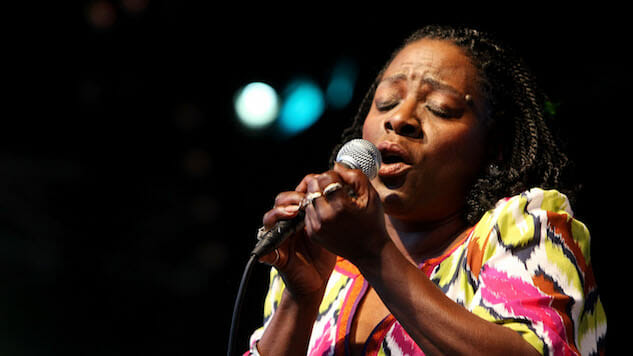 There's something to be said about a singer who makes such a legendary impact within such a relatively short amount of time—that's what Sharon Jones managed to do before her untimely death last year. As the artist behind Daptone Records' first full-length release, Jones, with the help of her backing band, The Dap-Kings, made a name for herself as one of the greatest soul performers of all time, expressing the mood of her music not only through her voice, but also through the movements of her body.
Though Jones' musical career spanned only 20 years while she was alive, Daptone has one more album of hers to release posthumously, Soul of a Woman, and from it, they've previously shared the up-tempo "Matter of Time." Now, they're slowing it down with "Call on God," a gospel track driven by an elegant piano line and Jones' flourishing, full-throated vocals. The origin of the song dates back to the 1970s, when Jones wrote the song for E.L. Fields' Gospel Wonders, a choir she sang with at the Universal Church of God in New York City.
The video for "Call on God" features a studio session of the original recording from 2007 when Jones and The Dap-Kings were preparing their third album 100 Days, 100 Nights. It was originally intended to be featured on an album of exclusively gospel music, but sadly, the project never came to fruition. The Dap-Kings were inspired to make the record after taking direction from Jones when recording the song—she knew exactly how she wanted the song to sound and took charge of the band's arrangements to make it happen, and the result is a stunning, heartfelt piece.
Soul of a Woman will be out Nov. 17—you can see the tracklist and revisit the lead single here and watch the studio recording of the latest single below. While you're at it, check out our remembrance of Sharon Jones here, and listen to her Bookery Reading via the Paste Cloud.