Shaky Knees 2019 Day 1 Recap: Tears For Fears, Sharon Von Etten, Oh Sees And More
Photos by Kevin Brown
Music
Features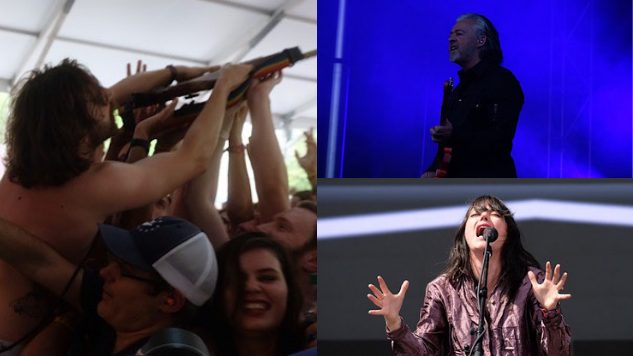 It was blisteringly hot in Atlanta for Shaky Knees 2019 Day 1, but we sucked it up, slathered on the sunscreen, and headed out for the day. The lineup Friday was diverse with everything from R&B soul to punk rock, giving us a ton to choose from. Here are some of our favorite acts of the day: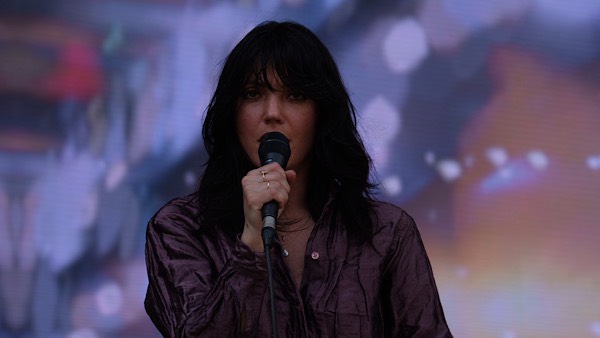 Sharon Van Etten
It's no wonder Sharon Van Etten played the main stage (a.k.a. the Peachtree Stage) at Shaky Knees. She's an absolute powerhouse in a live setting, leading her band like a true frontwoman at the top of her game. It is curious she played so early in the day (3:40 p.m.)—her commanding set felt worthy of a twilight slot. But in the end, the time or place didn't matter. Watching Van Etten play the songs from her bold new album Remind Me Tomorrow, a record that makes a clear, marvelously executed departure from her earlier folk-leaning material, felt like witnessing an artist fully come into herself. It's not that her new music is better or worse than her first four albums (2014's Are We There makes a convincing case for modern classic status). Rather, it's Van Etten finding power in her new confidence, in her ability to change her sound, which is now frothy with synths and droning drum loops and cathedral-like choruses, and still maintain her gusto. On Friday, she seemed most fortified when playing with a guitar (which she did with her hit "Every Time the Sun Comes Up"). But then again, when her hands were empty, she seemed just as assured—when she sang (read: bellowed, or maybe wailed?) "I know what you're gonna be" to her "Seventeen"-year-old self, I felt every hair on my body actively raise. That Springsteenian tune is often controlling song-of-the-year conversations (and it's only May), and Sharon Van Etten is constantly reinventing herself in the best way. —Ellen Johnson
Oh Sees
Oh Sees (aka Thee Oh Sees, OCS, etc.) are a masterclass in all things psych, punk, metal and garage. Frontman John Dwyer and co. touched down at Shaky Knees the same way that you might expect an extraterrestrial aircraft to do—unassuming, slightly ominous and impossible to forget. Equipped with two drummers and guitar extraordinaire Dwyer, Oh Sees went so hard they blew a speaker mid-way into their set as they ripped through cuts like "The Static God," "I Come From The Mountain" and the head-banging set highlight "Nite Expo." It's probably safe to say no Shaky Knees crowd this weekend will best Oh Sees in terms of crowdsurfers, especially considering the crowdsurfing panda mascot, to which Dwyer commented, "Don't you dare drop that panda." Whether it was a pole in the crowd, lit up and decorated like a Christmas tree, or the band's blinding 20-minute spiralling psych outro, Oh Sees were sensory overload in the best possible way. —Lizzie Manno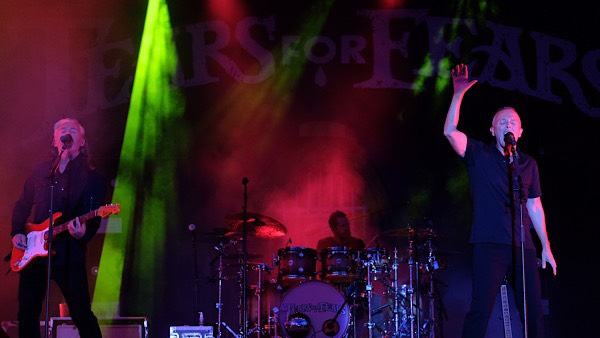 Tears For Fears
Hello, very big unabashed Tears For Fears fan here! It's not every day you get to see New Wave legends in person, and it's certainly not every day you get to see them perform your favorite New Wave song of all time. That happened Friday night for me in Atlanta at the Tears For Fears set on the Piedmont stage. They played "Pale Shelter," along with all of their most-known tracks, "Everybody Wants to Rule the World," "Shout," "Mad World," and more. They even blessed us with a cover of Radiohead's "Creep," which was a true delight. If you have a chance to see Tears For Fears, take it. Trust me. —Annie Black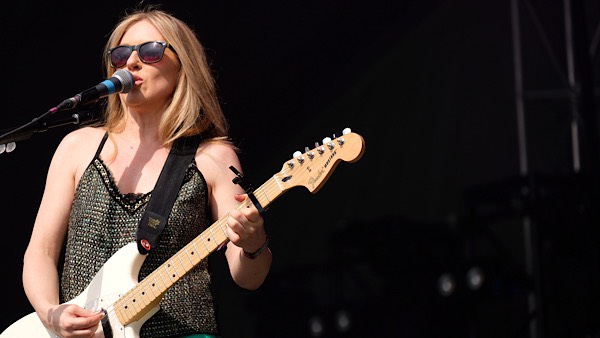 Liz Phair
Liz Phair's 1993 classic double album Exile in Guyville has aged gracefully and so has its maker. Phair was in good spirits as she graced the Piedmont stage on Friday afternoon with a haul of Guyville hits like "Fuck and Run," "Divorce Song" and "Stratford-on-Guy" as well as Whitechocolatespaceegg's "Polyester Bride" and Whip-Smart's "Supernova." Phair also played a new song "God Loves Baseball," which she explained was written after playing Wrigley Field on her last tour. Despite the song's earnestness and the perfect sunny festival backdrop to match its summer outdoor vibes, it's an almost unbearably cringeworthy tune. One of the biggest singalongs came via Phair's 2003 song "Extraordinary," despite Phair's shaky vocal performance. Phair still puts on a good show with a seemingly never-ending back catalogue of indie-rock classics to draw from, but her voice sounded a bit strained, perhaps due to her Thursday night pre-Shaky Knees show at Atlanta's Terminal West. —Lizzie Manno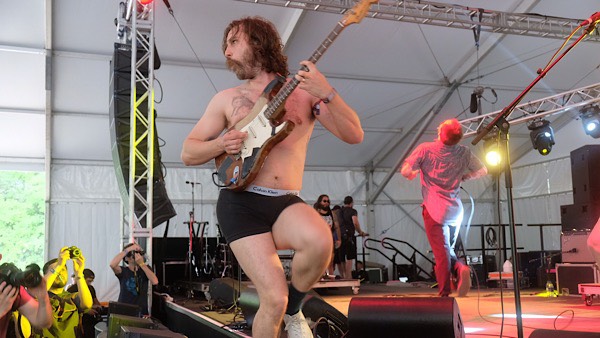 IDLES
Care for a mosh pit, anyone? You'll get that at any IDLES show, but the one at Shaky Knees on Friday was particularly wild. I stayed towards the back of the Ponce stage and watched the insanity from afar, but assistant music editor Lizzie Manno did not: she was right in the midst of the action. She sent me a three part text after the show stating, "I" "AM" "SOAKED," so I'll take her word for it. As per usual, IDLES delivered their positive punk sermon, with frontman Joe Talbot spreading the word that sometimes, bad things happen to people, yes, but that doesn't make someone a bad person. Give me positive, raucous, loud punk rock any day of the week. —Annie Black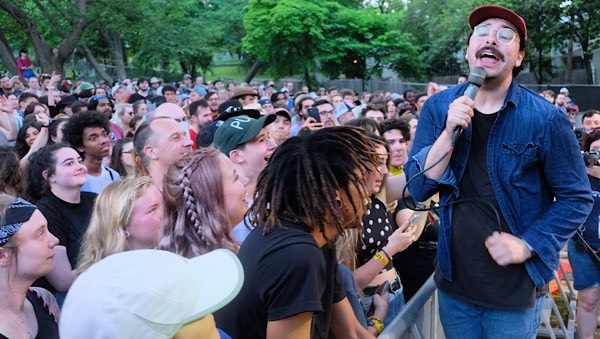 Foxing
Rock shows have long been a vehicle for catharsis, and with Foxing in the driver's seat, the Criminal Records stage crowd seemed to find collective release on Friday evening. The St. Louis indie rockers who specialize in everything from emo to math rock played songs from their 2014 debut Albatross, as well as their reconciliation album from last year, Nearer My God, recorded and released following a venture into solo territory by frontman Conor Murphy and bassist Josh Coll's stint in filmmaking. But their Shaky Knees set saw the foursome in their original lineup, once again proving these Midwesterners know a thing or two about sad songs worthy of a cleansing rage. —Ellen Johnson
Dashboard Confessional
HELLO, NOSTALGIA. At this late afternoon set, Christopher Carrabba showed us that while the bulk of his music is part of the past, Dashboard Confessional is most certainly not. Save for a questionable Justin Bieber cover, the band played through their most popular hits: "Don't Wait," "Screaming Infidelities," "Saints and Sailors" and more to an elated, enthusiastic crowd. We've all had our own dashboard confessionals screaming "This Bitter Pill" while stuck in traffic, right? They closed with "Hands Down," and while it might not have been hands down the best day that I could ever remember, I'll never forget seeing Dashboard Confessional live. —Annie Black
And now, we head to Day Two.