R.E.M., Patti Smith, Janelle Monae, Death Cab for Cutie, More to Auction Setlists for Youth Writing and Activism Centers
Photo courtesy of Setlists for Young Voices
Music
News
Setlists for Young Voices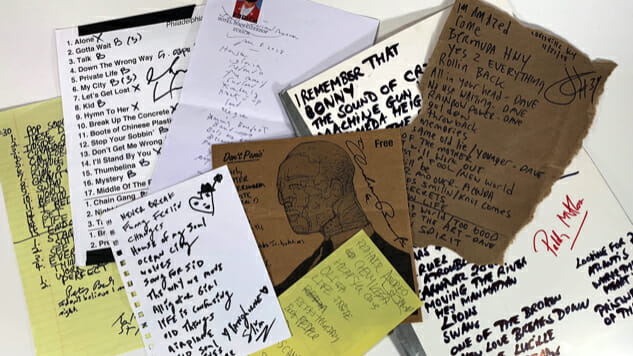 Starting tonight, April 22, over 100 setlists from renowned musicians will go to auction in support of Setlists for Young Voices, an initiative founded by Nick Hornby, Dave Eggers and Michael Chabon to benefit international youth writing and activism centers.
Ever wished you were one of those brave and lucky few to make it to the barrier at a concert? That fine and favorable place for making mid-song eye contact with your favorite artist, and when it's all over, that prime position to make a dive for the setlist from? Ever wished you could turn back the clock for a chance at one of R.E.M's setlists, like the one from their first major tour in 1989, signed by all four original members? What about a Death Cab for Cutie setlist from their Transatlanticism 15th anniversary show in Chicago? Or maybe Janelle Monae's 2019 Coachella setlist?
Such are just a few of the offerings being auctioned, along with setlists from Patti Smith, The Who, Wilco, Sigur Ros, Steely Dan, Dixie Chicks, Nine Inch Nails, Mitski, Jim James, Rush, The Pretenders, Shakey Graves, Better Oblivion Community CenterToro Y Moi and more.
Proceeds from the auction will benefit both Ministry of Stories and The International Congress of Youth Voices, which will bring international teen writers and activists together in San Juan, Puerto Rico, this summer. The auction begins tonight at 10 p.m. ET, and will end in ten days on May 2.
Setlists for Young Voices was born as the brainchild of novelist and screenwriter Hornby. "One of my friends used to stand at the front of the show so he could read the setlist and call out the name of the next song. It really used to annoy the band," Hornby explains. "So this is a way to satisfy your music-geek side without aggravating your favorite musicians." Hornby called on fellow writers Eggers and Chabon to partner with him in the effort, and thus began Setlists for Young Voices. "We're hoping to raise about $50,000," says Eggers. "That will have a powerful impact on more than 150 student writers at the Ministry of Stories and writing centers worldwide."
The Setlists for Young Voices auction and all its offerings can be found here. Watch a 1998 R.E.M. show from the Paste archives below.