Seratones Confront Confederate Monuments in Music Video for "Power"
Photo courtesy of Seratones
Music
News
Seratones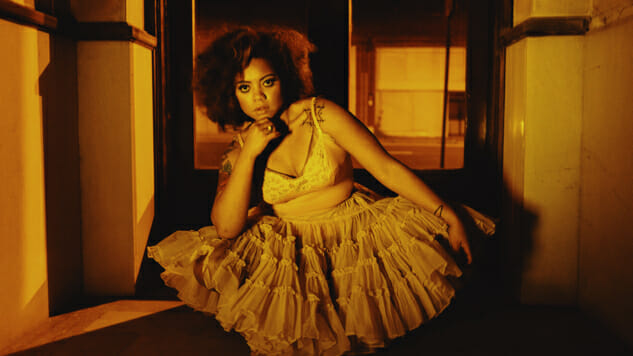 Shreveport roots-rock band Seratones have debuted a defiant music video for their psychedelic soul single "Power," which was released last month.
"Power" has lead singer A.J. Haynes belting like Aretha about the neverending struggle for social justice: In the chorus, she declares, "We take two steps forward / they take one step backward / we take each step to lift ourselves higher." And now in their new music video, Haynes locates the triumphant "Power" within the injustices the Black community of Shreveport faces.
The video focuses on a young black girl's journey around Shreveport, carrying a magical flower among Jim Crow-era buildings. Another shot displays the regal Calanthean Temple on Texas Avenue, once the centerpiece of a neighborhood called the "Black Wall Street of its times." Yet another scene frames the Hope Medical Group abortion clinic, where in real life, Haynes works her day job as a counselor.
The video is dedicated to the founder of Baton Rouge's African American Museum, Sadie Roberts-Joseph, who was tragically murdered this week. Haynes explains in a statement that Roberts-Joseph "understood that in the South, we live with the Spirits of our complicated history—but the Spirits are often muted, silenced, or talked over … as if an impenetrable barrier muffles our understanding. I hope this video offers a way for us to listen to those Spirits and honor her Power."
Haynes also went on to discuss the historical significance of the locations where she chose to shoot her video, hinting the complicated relationship between white and black women in the South, and expressing pride at Black resilience in the face of oppression:
The Confederate monument (founded by the Daughters of the Confederacy) has always been a chilling reminder of the lengths that people will go in order to control someone else's body. This violent lineage is even more evident in the wake of Sadie Roberts-Joseph's recent murder. She amplified the stories of Black people in Louisiana, carved a sacred space for our living narrative. Although an unknown assailant took her life, they will never be able to take away her voice.
Hope Medical Group was founded seven short years after Roe v. Wade and has stood strong since. I've spent almost a decade there listening to women's stories and helping them navigate their paths to physical autonomy. My time spent there is integral to my identity as an artist.
The Calanthean Temple represents a celebration of autonomy, persistence, and innovation. How amazing that Cora M. Allen owned a thriving Black cultural hub at the height of Jim Crow in a place nicknamed Bloody Caddo.
And that's not to elide the rest of the music video, which is filled with brilliant, emotional scenes. There are energetic young dancers doing formations straight out of a Gordon Parks photograph, for example, or a church choir raising their hands to heaven in a dilapidated room, or the formidable poise of Haynes herself.
You can watch "Power" (dir. Danielle Calodney) below, and be sure to check out a 2015 Paste Studio session by Seratones further down. Their second album, Power, is out Aug. 23 on New West.