Seratones Share Wonderfully Melodramatic Kiss-Off Ballad "Lie To My Face"
Photo courtesy of Seratones
Music
News
Seratones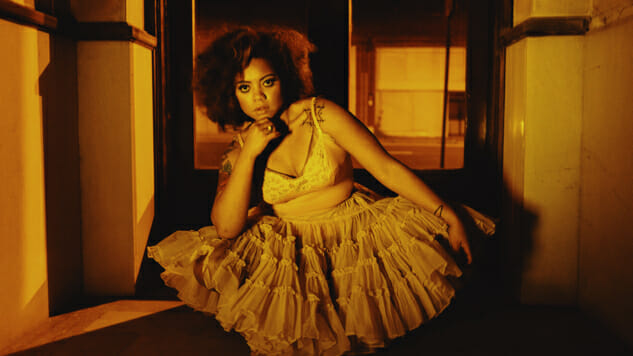 Louisiana nostalgia rockers Seratones have been plumbing the depths of mid-century Black pop in the singles from their forthcoming sophomore album Power. Previous singles have looked towards funk ("Sad Boi") and psychedelic soul ("Power"), and with their latest single "Lie To My Face," the band explore sugary-sweet Motown ballads.
Over Cage The Elephant guitarist Brad Shultz's plunking piano chords, rumbling horns and staccato, off-beat guitar accents, Seratones lead singer A.J. Haynes paints a picture of a relationship gone sour: "Lied to my face and cried me a river / You play your game and blame me forever." Haynes' expressive voice is used to its full potential here: The chorus has her voice going from brassy to sweet to strained as she repeats the line, "I knew you would / lie to my face." This mid-tempo ballad is not in a hurry to get anywhere, letting you marinate in its melodramatic mood. In this sense, it resembles some of the great blown-out weepers of the '60s, like The Chantels' "The – Maybe" or The Miracles' "You've Really Got a Hold On Me."
Seratones have been pulling no punches lately: They recently released an emotional new music video for their second single "Power" that protests against the legacy of racism in their hometown of Shreveport. Haynes is also a committed activist for women's rights (her day job is as a counselor at an abortion clinic). It is a welcome progression for the band, who were once firmly roots-rock, to begin exploring the musical legacy of Black women, from Aretha to Evelyn "Champagne" King and now the Motown girls. With any luck, Power could be the pop counterpart to Jamila Woods' high-brow tribute album Legacy! Legacy!
Power is out Aug. 23 on New West. Listen to "Lie to My Face" below and revisit the band's 2015 Paste Studio session further down.