Seratones Channel Aretha Franklin in New Single "Power"
Images via Dylan Glasgow Guice, New West Records
Music
News
Seratones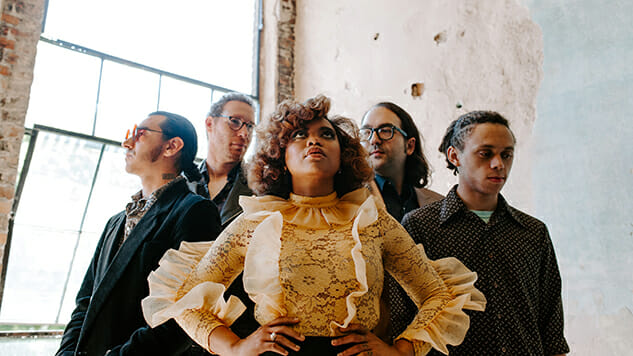 Shreveport's cowpunk revivalists Seratones are fighting their way out of the roots-rock box with "Power," the second single off their forthcoming sophomore album of the same name.
Seratones splashed onto the Southern rock scene with their debut album Get Gone, which sounded like if X did an Alabama Shakes covers album. Gluing this odd hardcore punk and rockabilly sound together was lead singer A.J. Haynes, whose bluesy contralto recalls Tina Turner here, Sister Rosetta Tharpe there, but with yelps and falsetto leaps that carve out her own style.
The first single off their forthcoming second LP, "Gotta Get To Know Ya," was an indication that Seratones were trying to shed their previous reputation, what with its pop-rock charms. Unfortunately, it ended up a bit too tidy, like it could inoffensively soundtrack a Nissan Altima commercial or a CW drama. Thankfully, their new single "Power" is as gutsy as its predecessor was timid. The track finds Seratones trying to create a latter-day soul classic up there with Curtis Mayfield's. Sure, it falls a little short, but it's the ambition that makes the track spark.
The track begins with an unrelenting snare playing every beat in tension with a cool, mellow bass riff, recalling '70s touchstones like Issac Hayes' Shaft theme or The Supremes' "Stoned Love." A soaring string section alternates with synth washes for cinematic flair, all while Haynes spins a tale of danger: "Brighter days coming / but I can't see where I am going." And let's not forget Haynes' pipes, because they're in top form. Her voice alternates between her signature blues queen register in the chorus with a new, cool voice that recalls Martina Topley-Bird in the verses. In the bridge, the electricity drops out of the backing band and Haynes solos in noirish suspense before that final chorus thunders in like a million man march. It's psychedelic soul by the way of trip-hop, and it's perfect.
Soul was the theme music for the '70s mood of outspoken black activism, with stone-cold classics like Edwin Starr's "War" and Marvin Gaye' s "What's Going On" complimenting the on-the-ground organizing young black radicals were doing in their communities. After the FBI crushed the nascent social movement, their concerns remain: Police violence and social discrimination still cast their ugly shadow. Soul, unlike other hopelessly '70s genres like disco, has retained its revolutionary energy through the decades because it is like a ghost—it has unfinished business on this Earth. It waits for the change that never came, the revolution that was never televised because it was smothered in its cradle. The Black Lives Matter movement was soundtracked by the soul-channeling Kendrick Lamar, and D'Angelo and The Vanguard, proof of the genre's haunting relevancy. And Seratones tap into some of that crackling lightning: "We take two steps forward / they take one step backward / we take each step to lift ourselves higher." Black power, indeed.
Listen to "Power" below, and see Seratones' 2015 Paste Studio session and tour dates further down.
Seratones Tour Dates:
August
22 – Dallas, Texas @ Three Links
23 – Austin, Texas @ Stubb's Jr.
24 – El Paso, Texas @ Lowbrow Palace
26 – Phoenix, Ariz. @ Valley Bar
27 – Los Angeles, Calif. @ The Echo
29 – San Francisco, Calif. @ Cafe Du Nord
31 – McMinnville, Ore. @ Walnut City Music Festival
September
01 – Portland, Ore. @ Bunk Bar
03 – Seattle, Wash. @ Tractor Tavern
06 – Minneapolis, Minn. @ 7th Street Entry
07 – Chicago, Ill. @ The Empty Bottle
09 – Toronto, Ont. @ The Drake Hotel
10 – Montreal, Que. @ Quai Des Brumes
12 – Allston, Mass. @ Great Scott
13 – Brooklyn, N.Y. @ Baby's All Right
14 – Washington, D.C. @ Pearl Street Warehouse
15 – Carrboro, N.C. @ Cat's Cradle
18 – Nashville, Tenn. @ The High Watt
19 – Atlanta, Ga. @ The Earl
20 – Birmingham, Ala. @ The Nick
21 – New Orleans, La. @ One Eyed Jacks
October
25-27 – New Orleans, La. @ Voodoo Festival