Rufus Wainwright Is Going to Cuba Before It's Too Late
The singer talks about his upcoming series of shows and talks in Cuba, and why it's more important now than ever.
Music
Features
Rufus Wainwright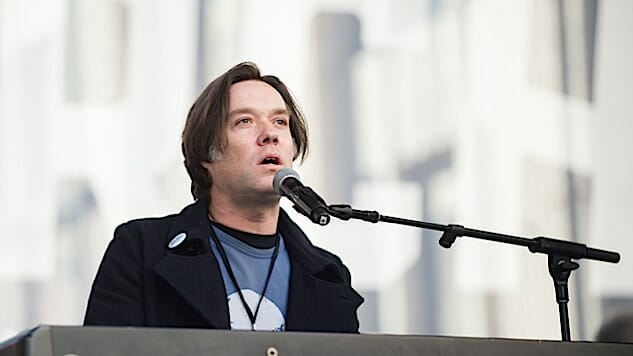 Only 90 miles separate Cuban and American soil, but the two nations have felt worlds apart due to over 50 years of commercial embargoes and travel bans. After President Obama restored diplomatic relations with Cuba and lifted the ban in 2015, tourism to the island nation spiked as Americans sought to explore the country that had been all but off-limits for two generations. But it would be short-lived, as President Trump announced in June that he'd be reinstating many of the bans lifted by Obama. This week, Secretary of State Rex Tillerson announced that the US is considering closing its Cuban embassy after a series of mysterious attacks on American diplomats there.
Growing up in Montreal as an American expatriate, Rufus Wainwright had a very different experience with Cuba than most. He was born in Rhinebeck, N.Y., to folk singers Kate McGarrigle and Loudon Wainwright III. When his parents divorced three years later, he moved with McGarrigle to Montreal. "There was a connection between" Cuba and Canada, he writes on the website connected to the trip. "People visited Cuba frequently. That gave me a clearer lens into the country, even though it barely scratched the surface."
To help complete the picture, Wainwright is traveling to Cuba for four days and nights, from Sept. 21 to Sept. 25, and inviting fans to share the culture with him via "Wainwright Libre: Rufus in Havana." He'll perform two shows in the city—one private, stripped-down performance for fans who are a part of the trip and one full-orchestra performance with Cuban singer Carlos Varela—and lead a musical discussion at the Instituto Superior de Arte. In addition to the shows and discussion, "Wainwright Libre"—which reportedly will not be affected by Trump's recent policy changes or the damage done by Hurricane Irma—includes a meet-and-greet with Wainwright, concerts by local musicians, visits to some of Havana's museums and local art galleries, a ride around the city in a classic convertible, cigar and rum tastings, and more.
Paste recently caught up with the 44-year-old Wainwright to discuss his inspiration for the trip, his love of Cuban culture and why it's important for Americans to "keep a dialogue going" with the country.
Paste: I know you've visited and performed in Cuba before. How did the concept for this particular trip come together?
Wainwright: I was offered the gig and it fit in with my grand plan of things regarding Cuba. I mean, I've been there a few times, but in terms of figuring out ways to come back and actually make it feasible—both financially and also culturally—if I was going to work there, one needs a little help [laughs]. It is a different system. This came up, and it seemed like a really good way to keep that dialogue going.
You wrote in your introductory note on the Rufus in Havana site that "in Cuba, you see things that are very true while also very mysterious and ephemeral." Can you elaborate on that?
I think that you don't want to romanticize the poverty and turn it into this idyllic state of being—which one can do, because people are technically taken care of. At the end of the day, they have food and they have medical care and so forth. But that being said, there is something that we don't have in America where the general population, they're not there to make millions of dollars. And especially now, with Donald Trump, it's refreshing just to see people living their lives and enjoying the day for what it is, and not being so intent on pillaging the world. [laughs] There's something refreshing about that.
Speaking of Trump, I've heard the trip won't be affected by his policy change regarding Cuba, but I am curious about your thoughts on that issue.
I would say that some of the ticket buys slowed down a bit after the announcement. I guess people were questioning if it was even going to happen. But now, it definitely is and I feel that it's actually more of an incentive to come now. Obviously on so many fronts, whether it's US-Cuba relations or the environment or education, it seems like people have to take those issues into their own hands and go out and enjoy the world without it being prevented by their country, by their government. So I'd think it'd be more of an incentive to go, actually, while you can.
You'll be performing with Carlos Varela, the famed Nueva trova singer. What was your first introduction to his music?
There was a little party in Havana thrown for me and him, where we got to sing and speak and enjoy the evening. It was a personal introduction to his sound, which was really wonderful, and now it's fantastic to share that with the public.
Are there any plans to record these shows in any way?
Not yet, but it's good that you've brought up that concept—yeah, it's not out of the question. [laughs]
"I in no way profess to be an expert on Cuban music, and in fact that's why I think it's kind of fun to come on this trip, because I'll be discovering things along with everybody else."
You'll also be leading a discussion at the Instituto Superior de Arte. What do you plan to discuss there?
I have no idea, frankly. The way that I do this, I in no way profess to be an expert on Cuban music, and in fact that's why I think it's kind of fun to come on this trip, because I'll be discovering things along with everybody else. But what I have garnered from my experiences down there is that due to the variety of that sound, be it African or European or other Latin American countries, there's such an incredible melting pot of music, that people really seek out the individual, they seek out the unique, because there's so many great ingredients to create musicians. That's always been something that I've yearned for and searched for in my music-making. So I'm just there to sort of add another ingredient to the soup.
When was the last time you were in Cuba?
About a year and a half, I think. One thing that people should know is that the people are so fantastic and warm and welcoming and eager to know their neighbors. We've gone back because we love the people so much.
Do you anticipate this trip being different from your previous trips to Cuba?
Yeah, I'm down there working this time, so I will be more of an official figure, but there's very little difference between who I am onstage and who I am backstage. It'll be fun.
Do you see the trip influencing your future work at all? Does being there and absorbing everything find its way into your music?
I tend to be very open to all influences, so I'm hoping! Hope so.
What are you most looking forward to?
What I'm really happy about and looking forward to, besides the beauty of Havana and the warmth of the people and the excellence of the music, is that, as I said before, it's really important that US-Cuban relations remain intact and that we keep a dialogue going and that we maintain more of an international perspective, as opposed to this isolationism which is threatening our democracy. So I put it very much in that column. We're people going down there doing a service to the world.