Daily Dose: Rosalía, "Aute Cuture"
Images via Columbia Records/YouTube, Columbia Records
Music
Features
Rosalia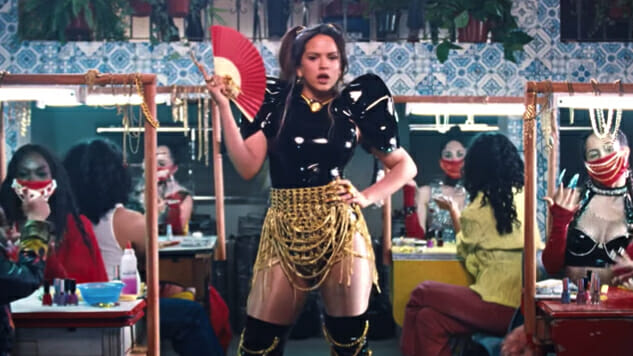 Daily Dose is your daily source for the song you absolutely, positively need to hear every day. Curated by the Paste Music Team.
Fresh, fun and fabulously femme, Rosalía hits up the nail salon in the video for her latest bold banger, "Aute Cuture."
In an electrifying explosion of color, dance and nail art, the Spanish flamenco-pop star takes centerstage in a new music video directed by Bradley & Pablo, the duo behind Migos, Cardi B and Nicki Minaj's "MotorSport" visual.
With its syncopated rhythm of hands clapping and striking visuals, the new video turns heads with an otherworldly bomb of neo-flamenco-fusion paired with some strong Quentin Tarantino vibes.
The video starts with a mysterious figure smoking a cigarette in lime-green go-go boots and a mini-skirt.
"In the business of beauty, things aren't always pretty," they begin, launching into the story of Aute Cuture, a "mystic beauty gang" who does "perfect fucking nails said to contain uncanny magic."
Rosalía and her crew take to the streets with their gloriously extra nail art, complete with lacquered details and sharp corners reminiscent of baroque sculptures. Together, they spread magic through manicure, bestowing customers with powers embedded in each detailed design.
But when a business deal goes sour, Rosalía takes on two nasty associates, slashing one of their cheeks with her golden claw.
Pulsating and with a deliciously addictive hook sure to be stuck in your head all summer, the catchy, dizzying dance beat of "Aute Cuture" is imbued with reverberating energy and all about movement—after all, Rosalía wrote the song while dancing. It also quenches our thirst for more since her critically acclaimed second LP El Mal Querer was released last November.
"Aute Cuture" is Rosalía's latest since she released "Con Altura" with El Guincho and J Balvin. With no album announcement, it seems like "Aute Cuture" and "Con Altura" are stand-alones, at least for now.
But in this lush and colorful new bop, Rosalía proves the talent dripping from her fingertips—or, in this case, freaky, manicured talons. The song is above all a celebration of unapologetic, hard-edged femininity, and is perfect for dancing, prepping for a girl's night out or blasting in your car on balmy summer drives.
Be sure to check out the new music video below and Rosalía's new string of summer concert dates here.