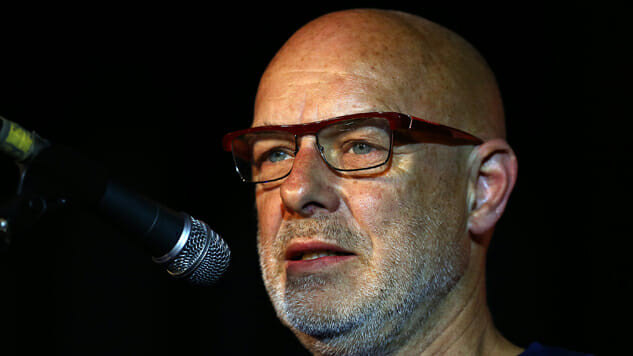 Legendary ambient composer Brian Eno announced Friday he will be releasing a joint album with his brother Roger Eno. The album, titled Mixing Colours, has been in the making since as early as 2005. "There's a huge commonality between what we're interested in," Roger says in a statement, while Brian adds, "These pieces are very Impressionistic and very much to do with sonic quality, sonic colour." Each track sans one on Mixing Colours 18-track-long list references color in some way, with track titles such as "Obsidian" and "Burnt Umber."
This obsession with tonal color is showcased on "Celeste," which the brothers shared alongside their announcement. The track is beautiful, shifting every so slightly to mirror the sort of abstract soundscapes Brian Eno has spent the better half of a century refining. It's meditative and kind, as if meant to admire the album artwork, which depicts abstract pieces by Dom Theobald. "Celeste" points to an exploratory album, one of quiet but deliberate exercises in the possibility of sound. Brian Eno notes:
With classical instruments the clarinet represents a little island of sound, the viola another, and the grand piano yet another. Each instrument is a finite set of sonic possibilities, one island in the limitless ocean of all the possible sounds that you could make. What's happened with electronics is that all the spaces in between those islands are being explored, yielding new sounds that have never previously existed. It has been a huge pleasure for me to explore that ocean with Roger's unique compositions.
Mixing Colours is set to release on March 20 via Deutsche Grammophon. You can listen to "Celeste" below and see the details of the album further down.
Mixing Colours Tracklist:
01. Spring Frost
02. Burnt Umber
03. Celeste
04. Wintergreen
05. Obsidian
06. Blonde
07. Dark Sienna
08. Verdigris
09. Snow
10. Rose Quartz
11. Quicksilver
12. Ultramarine
13. Iris
14. Cinnabar
15. Desert Sand
16. Deep Saffron
17. Cerulean Blue
18. Slow Movement – Sand
Mixing Colours Album Art: