Rock and Roll Hall of Fame 2020 Nominees Announced: Whitney Houston, Notorious B.I.G., Soundgarden, More
Photos courtesy of the Rock and Roll Hall of Fame
Music
News
Rock and Roll Hall of Fame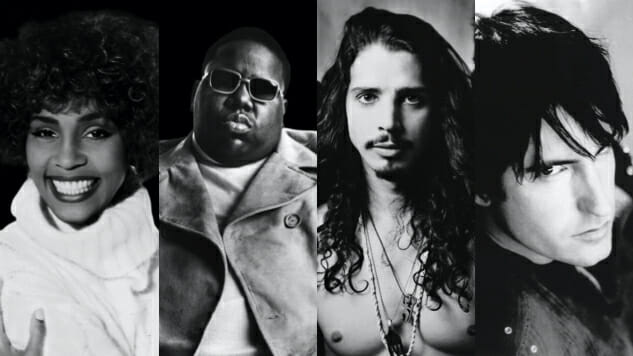 The latest crop of Rock and Roll Hall of Fame nominees has been announced, with nine first-time nominees among the 16 total acts nominated on Tuesday morning.
Whitney Houston, The Notorious B.I.G., Soundgarden, T. Rex, Thin Lizzy, Motörhead, Pat Benatar, The Doobie Brothers and Dave Matthews Band all find themselves on the ballot for the very first time, while returning nominees include 2019 nominee Todd Rundgren, 2018 nominees Judas Priest, two-time nominees Nine Inch Nails and Depeche Mode, three-time nominees Rufus featuring Chaka Khan, four-time nominees MC5 and five-time nominees Kraftwerk. Artists can only be nominated 25 years after the release of their first commercial recording.
Fans can vote for up to five of their favorite artists per ballot, submitting one ballot per day through January 10, 2020, by searching "Rock Hall Fan Vote" (or the word "Vote" along with any nominee name) on Google. Fan ballots will be tallied along with those of the Hall's voting body (comprising more than one thousand musicians, music historians and industry figures) to select 2020's inductees.
Inductees will be announced in January 2020 ahead of the 35th Annual Rock & Roll Hall of Fame Induction Ceremony in Cleveland, Ohio, on May 2, 2020. Find the full list of nominees below, beneath Paste archival footage from Nine Inch Nails' Woodstock '94 performance.
Pat Benatar
Dave Matthews Band
Depeche Mode
The Doobie Brothers
Whitney Houston
Judas Priest
Kraftwerk
MC5
Motörhead
Nine Inch Nails
The Notorious B.I.G.
Rufus featuring Chaka Khan
Todd Rundgren
Soundgarden
T. Rex
Thin Lizzy