Watch Led Zeppelin's Robert Plant Perform "Immigrant Song" for the First Time in 23 Years
Photo by Jim Dyson/Getty, Ian Gavan/Getty
Music
News
Robert Plant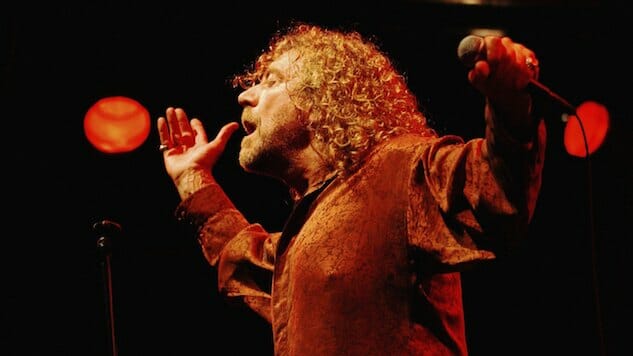 Performing in the land of ice and snow, Led Zeppelin's Robert Plant sang the band's hit "Immigrant Song" at the Secret Solstice Festival in Iceland.
Opening the band's album Led Zeppelin III, "Immigrant Song" is just one year shy of 50 years old, and the performance is the first time Plant has sung the track to a live audience in 23 years, per Rolling Stone.
Lacking on the wailing "ah-ahs," but hitting the higher notes on the song's bridge, it's apparent why the singer hasn't performed the song in so long. It should be obvious the 70-year-old legend can't quite hit the vocal highs he could in his younger days, but nonetheless the crowd seemed to enjoy the shortened performance of the powerhouse song.
Performing with The Sensational Space Shifters, Plant most likely dusted off the song since it was inspired by Iceland, after all. The track was written by Plant and Jimmy Page back when the band toured Iceland in 1970. To honor the song, Plant ended the performance by thanking the country for its inspiration. "Thank you culture, way back, for the inspiration," Plant said.
Plant has been known to splice Zeppelin songs into his sets with The Sensational Space Shifters, but the last time he performed "Immigrant Song" was with Page in 1996. While it's not likely the legendary rocker will perform the song again anytime in the near future, it can be assumed audiences can hear some Zeppelin hits on the rest of Plant's tour with The Sensational Space Shifters.
Watch Robert Plant and The Sensational Space Shifters perform "Immigrant Song" below and further down, hear a 2006 Plant performance from the Paste archives and see his remaining tour dates.
Robert Plant 2019 Tour Dates:
July
04 – Roskilde, Denmark @ Roskilde Festival
September
13 – Fredericton, New Brunswick @ Harvest Jazz & Blues Festival
17 – Philadelphia, Penn. @ The Mann Center
20 – Indianapolis, Ind. @ Outlaw Music Festival*
21 – Louisville, Ky. @ Bourbon & Beyond Festival
23 – Clear Lake, Iowa @ Surf Ballroom
25 – Moorhead, Minn. @ Bluestem Center For The Arts Amphitheatre
27 – Missoula, Mont. @ KettleHouse Amphitheater
29 – Spokane, Wash. @ First Interstate Center For The Arts
October
01 – Salt Lake City, Utah @ Eccles Theater
03 – Bend, Oregon @ Les Schwab Amphitheater
(* – co-headline w/ Nathaniel Rateliff & The Night Sweats)