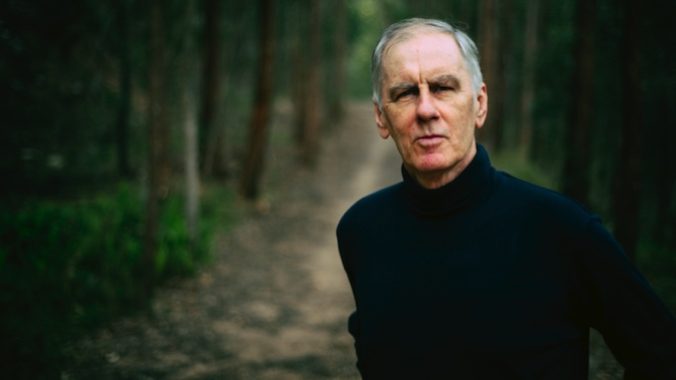 Australian singer/songwriter Robert Forster has always maintained this rosy life philosophy, but unexpected events that affected his family during the recent pandemic pretty much hammered it into stone: A great album can not only sustain you, spiritually, through difficult times, it can quite literally keep you alive. The former Go-Betweens anchor traditionally believed for most of his 47-year career. "And that is a key point, a key observation of creativity," he says, in specific reference to his latest seismic-shifting solo set, The Candle and the Flame, released today, Feb. 3. "And we think we're lucky that we have this world that we can go to, where we can create and forget about what was happening around us. So a project can just be so vital—I've seen it."
It's a testimony to the clever, comforting craftsmanship of Foster, 66—who first plied his trade with fellow drama class student Grant McLennan when they formed the brilliant Go-Betweens back in 1978—that listeners don't need to know the dark Candle/Flame backstory to appreciate its rich, resonant material. It opens with the Brisbane native's trademark angular guitarwork, galloping across the skeletal backdrop of "She's a Fighter" and its simple repeated lyrics, "She's a fighter/ Fighting for good." Then it segues into a reflective "Tender Years," and wistful reminiscences like "I see her through the ages…I can't live without her." Next: The chucka-chucka guitar cluck of "It's Only Poison" (which observes that "The summer is over" but "You're far from over", and is trilled by Forster's wife of 33 years, Kerin Bäumler), followed by other quiescent janglers lie "The Roads," "Always," "I Don't Do Drugs I Do Time," and a supple sentimental closing ballad, "When I Was a Young Man." The cover art—a purple-inked Durer-stark sketch of a hand rattling a tambourine—betrays no secrets, either, but it somehow thematically fits the tone and depth of the material, some of Forster's most sobering, to date, which only rises to its full stature when you learn its personal history. Even now, it's not a comfortable story for him to recall.
First, the great news: Foster's spouse is okay, doing well today and in good spirits. But in 2021, Bäumler was blindsided by a cancer diagnosis that shook the clan to its foundation. But they refused to succumb to depression, and—while undergoing intensive treatments for the aggressive disease—instead became consumed with recording The Candle and the Flame (Forster's eight solo outing) together, family style, with respect to the grueling chemotherapy sessions, which sometimes allowed for only a day or two of studio time a month. She sang and played xylophone, daughter Loretta also chimed in on electric guitar, son Louis added serpentine bass and more guitar, and Forster himself rooted the proceedings via lead vocals and acoustic six-string. Distracting herself with such engrossing work not only kept his wife alive, it just might have saved her, too, the singer reckons. "And hopefully, for other people dealing with cancer, it would be my big wish that they had some other big thing that they could just dive into, because it just helps so much," Forster adds, before mapping out the arduous trek for Paste.
Paste: After everything you went through during Covid, then—of all times—your wife get an unexpected cancer diagnosis? I would be shaking my fist at the sky, going "Really, Universe? Now?" How did she discover she was ill?
Robert Forster: I know, I know! It just came completely out of the blue, and it changed everything. And so had been in Covid for a good 15, 16 months, and this just set us off. And obviously, Covid's not going away, so we've just been at home and in that tunnel, but it's only now that I've just started to come out and do things, and Karin is getting better, so we're in a better place as we started this year. And with the diagnosis, unfortunately the symptoms were emerging at the same time as Kerin had her first Covid shot, which she reacted to and it just masked things for a little while. But she sort of knew there was something wrong, but didn't know what, so she was just doing tests, and finally it showed up. It was ovarian. At first we didn't know what type it was—we got the diagnosis, and then Kerin had a couple of weeks where she was doing a lot of tests, then going to the hospital and getting scans, too, to find out the exact location of the cancer. But thankfully, then you go right into trying to work out how it's going to be treated. And fortunately, she was able to start the chemotherapy very quickly, and she's still on it, but on a more temporary basis.
Paste: You've said that, ironically, you wrote the music for the album's opening track, "She's a Fighter," before she got that diagnosis. That's eerie.
Forster: I knew by the music, which was very short and sharp, that there was not much room to put in lyrical information, so it would have to be short and concise. And just watching Karin gather herself and prepare herself, and her attitude going into treatment was just really a positive outlook, and a positive energy, so that line "She's a fighter" came to me, and then the second set of three words, "Fighter for good." And it just slotted so brilliantly into this piece of music that I had, and that was the only song that I've done since she got the diagnosis, and it's just like the singer/songwriter in me, keeping me in the moment, when I got the lyrical inspiration to add to that piece of music that I had. And the other eight songs on the record were all written in the previous three or four years. And it is kind of weird. And it is eerie. And of course, we noticed that straightaway, and I can't think of another eight songs that I've written as a batch in my life that presaged a situation that hadn't yet occurred—it was very spooky.
Paste: Looking back on your life, have you experienced any potentially psychic moments? Or being in touch with the otherworldly?
Forster: I don't know. I don't write with set themes. I write from the inspiration that I get from music. As I said to you before, the shape of the tune "She's a Fighter" sort of dictated the lyric. But maybe you develop some sort of sense of the future, just because you're working so much, so it's hard for me to tell. But there's a lot of evidence stacked up that somehow, these songs were in touch with something that resulted in all of this. But she's not one that sort of reflects or responds to what happened, but it's just that it sort of filters through all the songs in various ways.
Paste: "It's Only Poison," for instance—you often have to kill cancer with virtual poison. And "I Don't Do Drugs, I Do Time" is a metaphor for what she underwent, or suffered through.
Forster: Yes. That's true. And that's why it's lovely that Kerin sings that, because we also wanted the record to be—or she, in particular, wanted it to be strong, and to not wallow in anything. She wanted the record to have joy and be positive, so I think she was doing that subconsciously when she came in with the vocal that she sings on "It's Only Poison." It really gives a very fresh, sort of poppy feel to it, which I think is beautiful. And maybe it's a cliche of drug-taking, but when people talk about it, it's all about changes in perception and colors and sounds, and a hyper-awareness and mind traveling. Which to me always equated to memory—I can sort of get that, or those sort of kicks, just by letting my mind wander in the past and thinking about things. It's just an equation that I felt between drug taking and the past.
Paste: But in "Tender Years," it sounds like you're looking back on the past and really marveling on your entire time spent together. An appreciation.
Forster: You're exactly right. And the word 'marveling' is very, very good—that's very perceptive. And yeah, it is. It just came to me when I wrote that chorus—"I'm in a story with her, can't live without her." As soon as I wrote those lines and that chorus, it opened up ideas for the verses. I wrote that chorus really early, and it just sort of guided what I wrote in the verses, what story I went back to. So that's how I had to set it up, and then it became quite personal, because I had to tell a story, and I had to provide information from our past.
Paste: And what exotic-sounding locations are you singing about in "The Roads"?
Forster: Kerin is from Bavaria in Germany, and I wrote the music in early 2020, in the house that she grew up in which her parents owned. And it was a house that I visited many times during Covid, and through the years, and I wrote about the area. I wrote about the Bavarian countryside, while I was there. I had this music in me, and I was just going to reflect what was around me. I met her when I was in the Go-Betweens—we used to tour Germany on each album, and she was in a folk-rock band from Bavaria called Baby You Know, and they used to come and see us play. And Kerin played violin and sang in Baby You Know, and for about two years, we'd meet each other, and we always had a great connection, and we'd talk a lot and hang out. But then at the end of a tour in '89, it just sort of blossomed, and basically, we just didn't want to part. So that's when the relationship started—in the middle of 1989, so the rest of the Go-Betweens went back to Australia, back to Sydney, and I stayed on in Bavaria and moved in with her in this sort of farmhouse in the Bavarian countryside.
Paste: You've said that there were tough times going through this when she only had the strength a couple of days a month.
Forster: Yes, that's true. But we didn't lose hope that we would finish the record. We always knew that we could reschedule. I mean, looking back on it now, it seems like a huge thing to have done. It almost seems like madness that we made this record through Kerin's seven rounds of chemotherapy, given just how hard that was. But it just showed us what the sessions, what the songs and just sitting around making music, just how important that was in those very difficult circumstances. So we can remember all the joy that it gave us, and that it took us away from a much harder world, and that it was an escape hatch. So we sort of hold onto that, and we see that and what it gave us. So we never really thought that it would overwhelm us and stop recording.
Paste: Did you consult Eastern medicine as well as Western?
Forster: Yes, we do. Eastern medicine, I'd say, in terms of some supplements, Kerin is very much into meditation, and diet—she has a dietician, and she's actually getting a massage right now, as I'm talking to you. And obviously, she stresses diet and exercise.
But she very much wanted to do this, and she's initially a psychologist, so she's done a lot of reading, and is totally interested in alternative approaches and spirituality, so this has been employed in her treatment, as well. So it's been a bit of both.
Paste: Given that the last thing you'd want to confront during a global pandemic is your own mortality, what mentality did you adopt to cope with both serious subjects, simultaneously?
Forster: We just..it made our life…it simplified our life a great deal, which is a good thing. And it became very home-based, as you can imagine. So we took comfort in that, in the simple things, and so we'd walk every day through nature, and that was very, very good. And on those days, we would have had to be really down physically not to have done it, because as soon as you get out of the house and walking, you feel better. But it means that basically, for three years now, we've been in this tunnel. But she's better now, much better, so it feels like we're coming out of it. And after a certain amount of time together, when these big challenges come along, all of that time together just keeps you in good stead. Like, it's something that you really appreciate, but you don't even think about it—it just means that you can take on these bigger things, much better and easier.
Paste: But how is your health, by the way?
Forster: At the moment, it's good. I had hepatitis C, so I had two rounds of treatment for that, and the second round was successful, in 2011, 2012. So I'm glad that I had successful treatment for that, so at the moment, I'm doing well. But also, because of Kerin's diet change and regular exercise, I've dropped a bit of weight, so I feel better just because of what I'm eating. So I feel the health benefits of all this, as well.
Paste: Will it be difficult to tour now, and sing these potential tearjerkers, night after night?
Forster: I really can't say. Probably "Tender Years" is one where I can't predict how it's going to go. That's going to be one where I just have to prepare myself as much as I can. So I really don't know—that issue's going to be something where I'm just going to have to go into the water and find out what it is. But I look forward to touring a great deal—like everyone, I haven't played for three years. So even though some of these songs are going to have great meaning to me and the audience, because they are going to know everything, because that come along and see will have been following all of this. So I think it's going to be quite a charged atmosphere there at the shows, but I've picked other songs in the set that are going to sit with it. So there is some trepidation there, but overall, I'm really looking forward to it. I haven't flown out of Australia in three years, so I've barely traveled. So it's going to be a bit of a big adventure.
Paste: Project-wise, though, what else do you have in the works?
Forster: I'm working on a novel. And it's a story, a story I've got in my head, so I've been working on that, and it's been really great to be at home during Covid and have this to turn to. And plot-wise, I can only tell you that it's set in the musical world, and it's set in 1991. But I'm hoping that it's going to be an entertaining story, but it's not a novel that's going to be too dour, where readers are dragging themselves through the pages. I definitely don't want that.
Paste: Were the kids—as featured, along with your wife, in the video for "She's a Fighter," both living at home in Brisbane during lockdown?
Forster: My son Louis is living in London, and he's writing songs. His band broke up in July, so he stayed on, and he's working on new music with new people, and it's shaping up. It's coming together really well for him.
Paste: Final question, then—what's your take on mortality now? Smoke 'em if ya got 'em?
Forster: Ha! Smoke 'em if ya got 'em! That's very good! Look, I am for smoking 'em if ya got 'em, and I guess the choice is, if you've got 'em in the first place. But I try and enjoy the day, so it doesn't enter my mind too much. I just try and load my life with good things and let the Universe take care of itself.