Rihanna Apologizes for Describing Diplo Track As "A Reggae Song at an Airport"
Photos by Kevork Djansezian/Getty, Tim P. Whitby/Getty
Music
News
Rihanna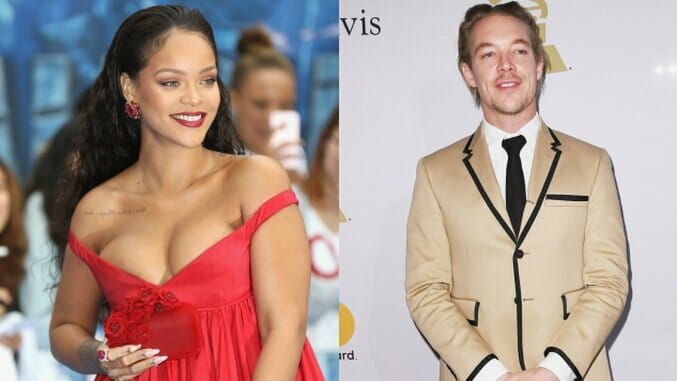 With the exception of M.I.A.'s 2007 banger "Paper Planes" and a few Jack Ü tracks, Diplo's production can be underwhelming. It's not bad. It just … is, and Rihanna appears to share that sentiment. In an interview with GQ, Diplo revealed that Rih used a few choice words to describe a demo of his that have stuck with him for a while.
"I just want her on a Major Lazer song. She's like the one artist that we can't ever get," revealed Diplo. "I played her "Lean On." She was like, 'I don't do house music.' I face-palmed so hard on that one." Finally, he had a shared session with the superstar (The Weeknd and Future were also there) and got the chance to play her a track, but her reaction wasn't quite what he had hoped for: "She was like, 'This sounds like a reggae song at an airport.' I was like, 'I'm gonna go kill myself.'"
After hearing of Diplo's embarrassment, Rihanna kind of apologized to the producer in an Instagram post.
2px); width:calc(100% 2px);">
To be fair, it's every pop songwriter-producer's dream to collaborate with Rihanna. If she lends her voice to your track, it's pretty much a guaranteed hit. Calvin Harris' "This Is What You Came For" and DJ Khaled's "Wild Thoughts" are two recent examples of songs that would be nothing without Rihanna. Diplo still has hope for a future collab, replying to Rih's apology with: "We gonna get one tho."
Best of luck, Diplo. We're kind of rooting for you.