Watch Jared Leto's Joker Try to Go Full Gangster With Rick Ross in "Purple Lamborghini" Video
Images via Skrillex/YouTube
Music
Video
Rick Ross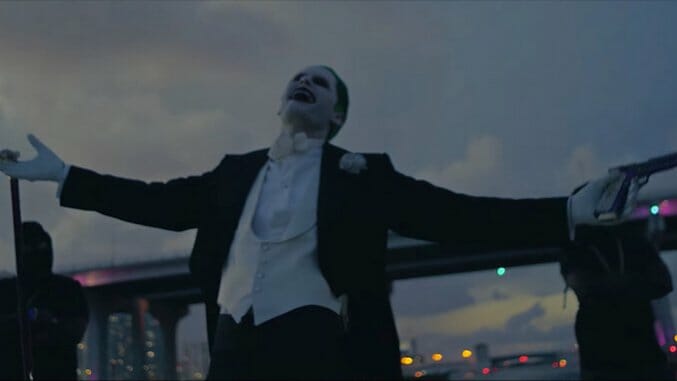 So after months of speculation, it appears that Suicide Squad is indeed the colorful flop of a superhero film we expected to receive.
The accompanying soundtrack, mostly a collection of pop and hip hop artists extolling the virtues of being bad to the bone, has at least seen success on the charts.
Twenty One Pilots contribution "Heathens" currently sits at no. 15 on the Billboard Hot 100 while Lil Wayne,Wiz Khalifa & Imagine Dragons' collab "Sucker for Pain" and Rick Ross, Skrillex mash-up "Purple Lamborghini" occupy latter positions.
"Purple Lamborghini" now has a new video starring Jared Leto's Joker. The character doesn't speak a word during the entire thing, instead opting for vaguely menacing looks and wide eyed stares.
Rick Ross and Skrillex are also there doing absolutely nothing. Rick Ross sings a lot and throws money while Skrillex, who just looks happy to be included, hops over surfaces taller than himself not once but twice.
All three of them later stand on a speeding boat and The Joker looks out across the ocean more like an awestruck sea captain than a crazed villain. It's…something.
Watch it above if you need a distraction before the opening Olympic ceremony at 6 p.m.