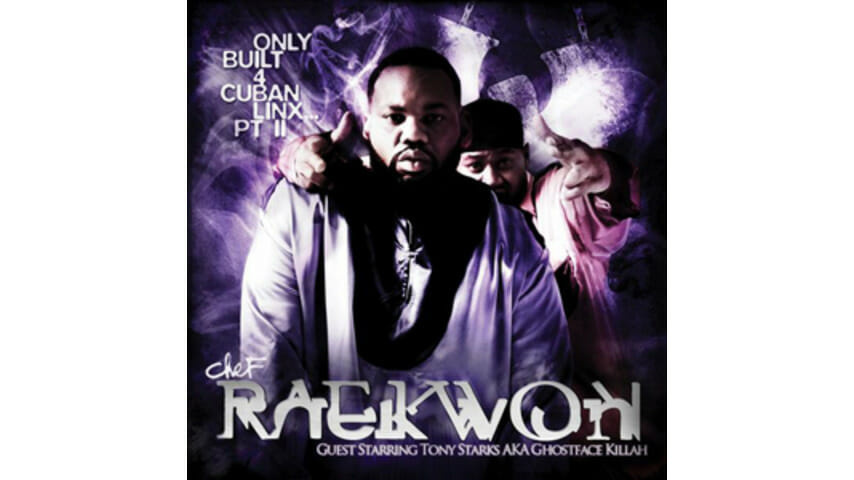 The Chef is back in the kitchen

In the years following the Wu-Tang Clan's 1993 masterpiece, Enter the Wu-Tang (36 Chambers), each member of the Clan's post-Wu output has been met with varying degrees of success. Ghostface's Supreme Clientele and Raekwon's Only Built 4 Cuban Linx are generally considered to be the best, and that pedigree is a blessing and a curse. The Chef hasn't been able to recapture the creative spark of OB4CL in the decade-and-a-half since its release, making his ambition to write a sequel something of a gambit.
The reunion of Ghostface and Raekwon (right down to the identical pose on the album cover and "Guest Starring Tony Starks" tagline) is part of what makes the long-awaited Only Built for Cuban Linx II a Godfather Part IIinstead of PartIII. One of indie-dom's favorite rappers serves as the perfect point man for Raekwon's return, serving up blistering verses and playing the loose cannon to Rae's straight man.
But where OB4CL2 really shines is in its production. The album picks up seamlessly from where its predecessor left off, and maintains that iconic early-'90s Wu-Tang sonic aesthetic, complete with samples from classic kung-fu flicks. J. Dilla's work here is a fitting swan song for the now-departed studio maven; his three tracks are easily the album's finest. And RZA seems to have buried his beef with the Chef with a raft of top-shelf production work and a featured verse on "Black Mozart." His ponderous soul sample on the standout "New Wu" coasts on a throwback beat as Rae spits "move like '91 Romans / cloning everything, gents only / the rent's on the stove, I'm in Rome."
OB4CL2 is heavy with guest verses, but none feel like a gimmick to move albums. Members of Wu-Tang compose the lion's share of features, with luminaries like Beanie Sigel, Styles P and Slick Rick filling in the gaps. The lyricism is a non-stop barrage of raw and frenetic rhymes, recalling grim tableaus of bullet-riddled alleyways in New York, Wu-Tang's stock-in-trade: "the streets stay flooded with crack rocks and mac shots / the scenery's money / gorillas in the backdrop," Inspectah Deck raps on "Mean Streets."
The album drags at points; with 22 tracks and a 70-minute runtime, some of this material would have been better off on a mixtape. But that's a minor flaw in an otherwise superbly-executed gangster epic. OB4CL2 manages to simultaneously build on the Wu-Tang saga and maintain a gritty charm all its own. Simply put, it's a classic, and one of the best albums to come out of the New York rap scene in the last decade.