Happy Birthday, Thom Yorke! Hear Radiohead Perform Live in 1995
Photo by Kevin Winter/Getty
Music
Features
radiohead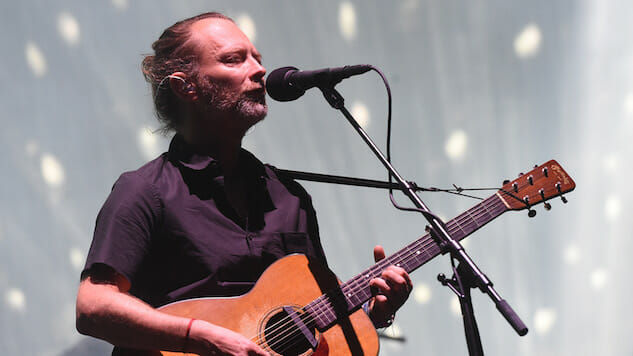 It's hard to resist Thom Yorke's gorgeous falsetto. As the lead singer of Radiohead for over two decades, Yorke has entranced audiences all over the world and impressed critics through many artistic shifts. As if being a singer/songwriter in one of the most critically-acclaimed bands of the last 20 years wasn't enough, he's also helmed several side projects and composed for film and theater. Most notably, he released a film score last year for Luca Guadagnino's Suspiria and a new solo album this year titled ANIMA.
Read: Thom Yorke's Best Non-Radiohead Songs
Today (Oct. 7), Yorke turns 51, and to celebrate, we're sharing exclusive audio from a Radiohead show in 1995. On June 1, the band performed at Tramps in New York City just a few months after their second album, The Bends, was released. Although Radiohead hadn't yet moved towards their more experimental leanings that would define their career, they had already released a number of their best songs by that point like "Creep," "Just" and "High and Dry."
Listen to Radiohead perform live in 1995 via the Paste vault below.