PWR BTTM Dropped by Label and Management, Tourmates Flee Amid Sex-Abuse Allegations
Photos by Ebru Yildiz
Music
News
PWR BTTM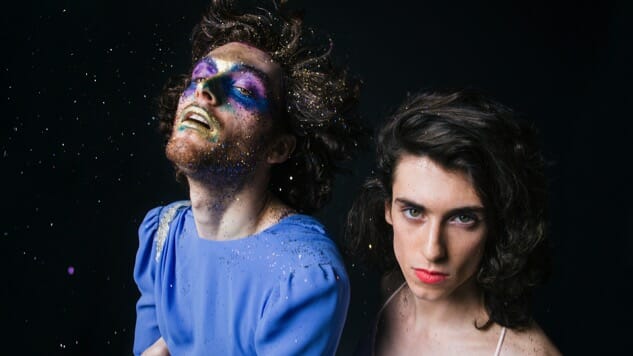 Update: PWR BTTM has been dropped by their label, Polyvinyl Records, who has offered full refunds to anyone who has purchased the band's records and issued the following statement:
Throughout our 20 years, Polyvinyl has purposefully operated on the core principle that everyone deserves to be treated with fairness and respect. There is absolutely no place in the world for hate, violence, abuse, discrimination or predatory behavior of any kind.
In keeping with this philosophy, we want to let everyone know that we are ceasing to sell and distribute PWR BTTM's music. If you have ordered PWR BTTM products from Polyvinyl and would like to receive a full refund for your purchase, please contact mailorder@polyvinylrecords.com. We ask for your patience as we work to quickly process all requests.
We will be making donations to the following incredibly important organizations: RAINN (rainn.org) to support its efforts against sexual violence, and AVP (avp.org) to aid its programs against LGBTQ violence.
Our hearts go out to all victims of discrimination and all survivors of sexual violence.
On Thursday, news broke that Ben Hopkins (above left), one half of indie-rock duo PWR BTTM, was facing allegations of sexual misconduct. Despite the band's attempt to mediate the fallout from the situation by issuing a lengthy statement and reaching out to survivors, the story continues to grow.
PWR BTTM, who did not deny the allegations, canceled an album release show scheduled to take place in Brooklyn on Friday, and two openers on their upcoming tour dates, T-Rextasy and Nnamdi Ogbonnaya, have canceled their plans to join the band on the road. Additionally, Cameron West, who performed and arranged music on the group's new album Pageant and is part of their touring band, has announced that he is severing ties with PWR BTTM on both fronts.
Pageant was released Friday.
While West maintains he was not aware of the allegations until they arose yesterday, T-Rextasy admitted yesterday in a series of tweets, which you can see below, that after announcing their dates with PWR BTTM, "someone came to us privately + warned us that they had these experiences w Ben. They asked us not to share them publicly," and they go on to acknowledge their own culpability by not acting at the time.
News got worse for PWR BTTM as Friday progressed. After the web site Jezebel published an interview with the alleged victim of Hopkins's abuse, the band's management company, Salty Artist Management, said in a tweet that it was severing ties with the duo, saying, "Our thoughts are with the victims and survivors of abuse who have been affected by this." The band was also dropped from the line-up of Hopscotch Festival.
Read the relevant social media statements about the cancellations below, and find Ogbonnaya's here. PWR BTTM's tour is still scheduled to take place, though they have yet to publicly comment on these artists' decisions not to join them.
1)Hi folks. We will speak more later about our next steps, but want to address the accusations against PWR BTTM as soon as possible

— T-Rextasy (@trextasynyc) May 11, 2017
2)We wish we could say these allegations come as a complete surprise, but that is not the truth. Around the time we agreed to a July tour w

— T-Rextasy (@trextasynyc) May 11, 2017
3)PWR BTTM, someone came to us privately + warned us that they had these experiences w Ben. They asked us not to share them publicly.

— T-Rextasy (@trextasynyc) May 11, 2017
4)At the time we felt we should continue w the tour. We did not want to out the person who had come to us in confidence. We feared that

— T-Rextasy (@trextasynyc) May 11, 2017
5) ducking out of a tour offer with no excuse would damage our professional relationships, many connected very personally to PWR BTTM.

— T-Rextasy (@trextasynyc) May 11, 2017
6)This in no way excuses us from culpability. We were scared and confused but we were also selfish. We made a mistake supporting this band.

— T-Rextasy (@trextasynyc) May 11, 2017
7)We put our career above the safety of fans who have trusted us and supported us and there's no way for us to remedy that.

— T-Rextasy (@trextasynyc) May 11, 2017
8)We feel that we may not be the only ppl in this community to have heard these allegations before today.

— T-Rextasy (@trextasynyc) May 11, 2017
9)We ask our peers to be honest in regards to their complicity in this situation.

— T-Rextasy (@trextasynyc) May 11, 2017
10) If anyone would like to talk to us, our inbox here is open or you can email us at trextasyband@gmail.com. We are here to listen.

— T-Rextasy (@trextasynyc) May 11, 2017
Hi folks. We wanted to state clearly and in our own words that we have decided to pull out of the PWR BTTM tour.

— T-Rextasy (@trextasynyc) May 12, 2017
Hi everyone. Today, like many PWR BTTM fans, I was shocked to discover that sexual assault allegations were levied against Ben Hopkins. /1

— Cameron West (@cameronwestmusi) May 12, 2017
From my understanding, these accusations were in fact levied via e-mail months ago, but were left unshared with other members of /2

— Cameron West (@cameronwestmusi) May 12, 2017
the band, including myself. In order to provide the highest possible respect to everyone who has come forward /3

— Cameron West (@cameronwestmusi) May 12, 2017
I am hereby ending my tenure with the band as an arranger and touring musician.

— Cameron West (@cameronwestmusi) May 12, 2017