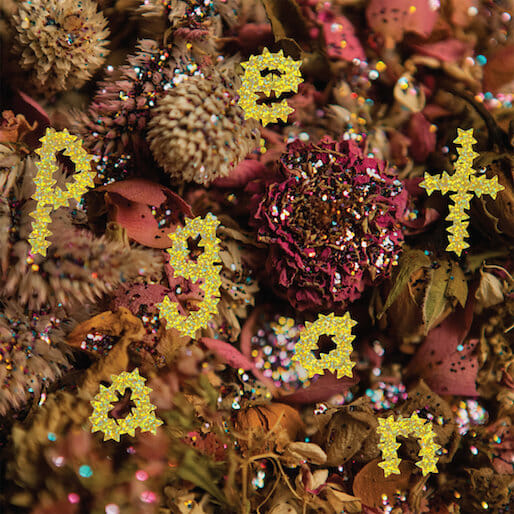 Eds note: This review was assigned and published prior to the revelation of sexual abuse allegations made against band member Ben Hopkins. Since then, Polyvinyl Records has dropped the band, stopped selling Pageant, offered fans refunds and pulled the record from streaming services. Read our article about the fallout, "What We Can (And Can't) Learn from PWR BTTM's Downfall," here.
What the world needs now, more than ever, is an album as valiant and compassionate, satirical and sensitive as Pageant. I can't recall hearing a band more ready for a proverbial limelight than Liv Bruce and Ben Hopkins, with the release of their second album as PWR BTTM.
The queer punk/pop duo's soundscape growls with masculine-sounding guitar rock and arena-ready anthems of fist-pumping power chords and heavy drum hits that heave instantaneously catchy melodies. But their lyrical content would likely be dizzyingly eye-opening for typical fans of any other comparable indie-power-pop outfit that might similarly blend literate lyrics with riff-heavy arrangements. These are love songs for the neurotic, folk songs for the freaked-out; they are cathartic riff-outs for anyone, regardless of identity, preference, fashion sense or dating history.
While their debut album, Ugly Cherries was a fun burst of sugar high rock with an unhinged chaotic boogie, Pageant exceeds expectations with its big sounds and big heart. Insecurities and self-empowerment ebb and flow throughout, in the way the duo plays, in the phrasings they choose, and in that charming mid-high vocal harmony they weave.
"Silly" opens with a frenetic guitar phrase recalling AC/DC's "Thunderstruck" and it bursts its way into being something like a baroque/pop-ska/opera song. But that zest is tempered as the record plays on. "Answer My Text" presents that carefree riff and head-bob beat we've heard all over the late '90s terrain of emo and power pop, while demonstrating a knack for satire. It's delicately deployed, often to undermine the anxieties of a post-Internet generation whose teenage angst threatens to stay with them until their thirties. "I'm gonna take my lunch money / for beating myself up," they sing on surfy crests of guitars and woozy strings in "Now Now."
There are layers of emotion and refreshingly subversive conversation starters baked under the frosting of their playful, sometimes sassy janglers. Blunt lyrics compliment the energetic instrumentation in a disarmingly tender way without being incendiary or explicitly irreverent. They charmingly, and (mostly subtly) provoke a widening of your consideration of the human experience, specifically toward issues of identity, self-esteem and empathy, along with challenging our other social constructs (and hang-ups) over gender, love, machismo and modern day manners.
These are songs to quell social anxiety, to challenge the patriarchy, to celebrate you, to celebrate ourselves. And they achieve it through songs that can feel like ostentatious arena rock that throws bricks through walls, or introspective indie-folk that's as vulnerable as a torn-out diary page. Some songs wag fingers, some drop jaws, some open their arms for a much needed hug. But what we have to emphasize is the inclusion of unconventional elements like French horns, flutes and the operatic vocals of Hopkins' own mother accompanying for austere ambiance.
"There are men in every town who live to bring you down / make themselves feel bigger making you feel small… My advice is: to look incredible as you make their lives regrettable by being your damn self…" The surfy, slamming rock jam of "Big Beautiful Day" comes near the end of the album, and even though it would have kicked ass as an opener, it has to be built toward. All the better to pound the prevailing theme of their lyrics: be yourself, celebrate yourself and subvert any shade from those stuck narrow mindedly in the status quo.
Eds note: Polyvinyl Records has stopped selling PWR BTTM's Pageant in the wake of sexual-abuse allegations made against band member Ben Hopkins. Read more here.