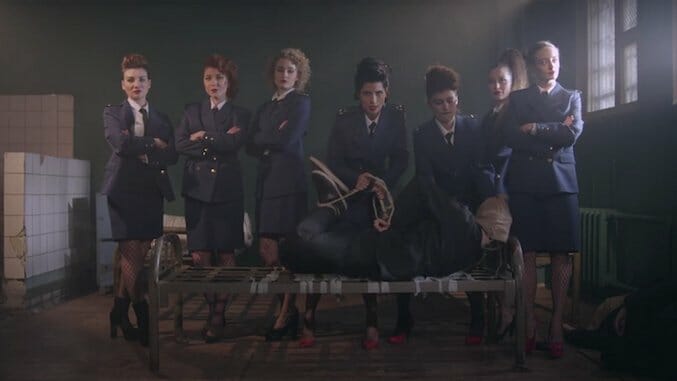 We probably take our right to protest for granted here in America. Russian feminist punk band Pussy Riot rose to fame after a 2012 protest concert against Vladimir Putin at a church landed three of the members in jail. Today, the group returned to its anti-establishment ways, releasing a music video for a new song called "Chaika."
The song, recorded with TV On The Radio's Dave Sitek, is a vicious stab at Artem Chaika, the son of Russian Prosecutor General Yury Chaika. Last week, a documentary put the Chaika family's corruption on full display, clearly illustrating its ties to the mafia, and The Guardian picked up the story. Just because that's not surprising (or perhaps precisely because it's not surprising) doesn't mean it's not a major problem.
"Pussy Riot's clip is inspired by the biggest political story in Russia—the recently uncovered bloody criminal connections and unbelievable corruption of Russia's top law enforcement official—the General Prosecutor Yuri Chaika," the band wrote in a statement alongside the video. "Pussy Riot demands an immediate investigation against General Prosecutor Chaika and his family, as well as against all the top officials in his office."
While that's (sadly) unlikely given the authoritarian nature of Russia, at least the music video is scathing. "Chaika" features members of the band gorging on masses of food, conducting executions, and attempting to eat a loaf of golden bread.