Public Enemy Will Perform at Bernie Sanders' Los Angeles Rally
Images via Scott Legato/Getty Images, Bernie 2020
Music
News
Public Enemy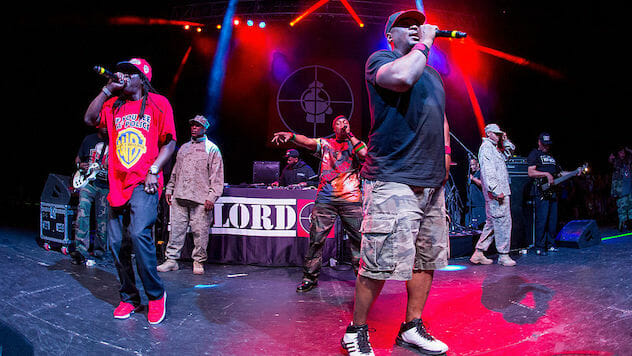 Senator Bernie Sanders will be holding a rally in Los Angeles this Sunday, March 1, with Public Enemy Radio—Chuck D's spinoff of the legendary rap group Public Enemy—set to perform. Also joining the rally is comedian Sarah Silverman and actor Dick Van Dyke.
Sunday

and @SarahKSilverman
and @iammrvandy

RSVP: https://t.co/xnCBT9WNti

Join the text team to fill the convention center: https://t.co/yiBnI61U1X

Make calls to GOTV: https://t.co/WPoDNbPcbkpic.twitter.com/RbFSBnF1nW

— People for Bernie (@People4Bernie) February 27, 2020
The rally comes just two days before Super Tuesday, during which the greatest number of states will hold primary elections and caucuses, including California. So far, Sanders has won the popular vote in Iowa, New Hampshire and Nevada, with the upcoming South Carolina primary projected to see Sanders and Biden neck-and-neck.
Public Enemy's anti-establishment ethos and emphasis on social justice, especially in the African-American community, is a worthy endorsement for Sanders' campaign, which has the highest number of voters of color compared to other campaigns.
The rally will take place at the Los Angeles Convention Center on Sunday, with doors opening at 3 p.m. local time ahead of a 5 p.m. start. Full details of the event can be found here.
Listen to a 1999 Public Enemy performance from the Paste archives below.