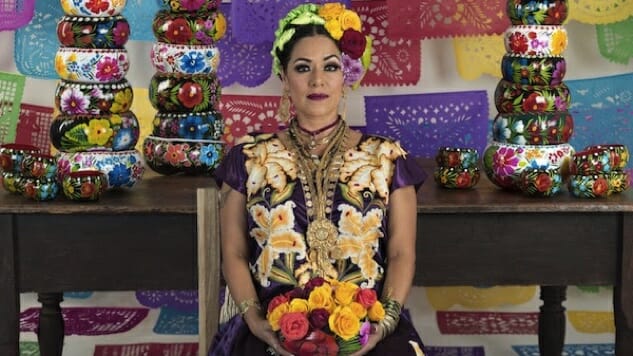 Joan Baez has been singing protest songs for most of her life, and her spring Fare Thee Well Tour is no exception. Baez peppered her recent set in Northampton, Mass., with socially conscious numbers spanning her 60-year career. She deftly drew connections between then and now, sometimes through song juxtaposition—she performed tunes about the Birmingham, Ala., church bombing in 1963; and the Charleston, S.C., church shooting in 2015—and sometimes with venerable songs that have modern analogues.
"This is not the time to be building walls," Baez said as she introduced Woody Guthrie's "Deportee (Plane Wreck at Los Gatos)," about a disaster that struck Mexican farm laborers on a flight out of California. Guthrie wrote the tune in 1948, when topical songs were a form of mass communication. That was still true in the 1960s and '70s, when Baez and others in folk, reggae, funk, R&B and rock used music as a way to rally the faithful and prod the mainstream on issues including civil rights, the Vietnam War and environmental awareness.
That's not really how it works anymore. In July 2017, six months into the Trump administration, Paste asked where the protest music of the Trump era was. The answer, two years later, is that it's everywhere, but it doesn't always resemble the high-profile topical songs of yore.
"Protest music now is not necessarily political, or politics in the way that we understood protest music in the '60s and '70s," says Ahmed Gallab, who fronts the New York band Sinkane. Many musicians writing songs through the lens of current events aren't striving for mass-market relatability. They're pushing back against the gutter ideology of racists and right-wing con artists by digging deeper into their own experiences, and seeking to make a connection to listeners through personal or cultural stories, from Black Lives Matter to #MeToo, or even just turning down the volume and writing quiet, calm songs in contrast to a blaring, always-on culture. Sinkane tends toward louder in the vibrant hooks and buoyant rhythms on the band's upcoming album. Dépaysé reflect Gallab's thoughts on living in the United States as a Muslim immigrant who moved here as a child after his family was exiled from Sudan.
"Prior to the Muslim ban and the whole Trump thing, I was talking more universally about a universal message, and my lyrics were vague, because I felt like if I talked about the overarching topic, people will connect to the music a little better, and I can spread a political message that way," Gallab says. Trump's policy barring entry to the United States to people from seven predominately Muslim countries, including Sudan, jolted Gallab into a new awareness of his place in American culture. "What came out of it was very personal stories, things I went through myself, these experiences I grew up having in the United States," he says.
It's no surprise that immigration is a prominent theme in latter-day protest music. The Trump administration's hostility toward migrants, and people of color more generally, has prompted a growing number of musicians to respond through their work. Lila Downs takes a cross-cultural view on her new album Al Chile. Her latest is a food-focused collection that makes an implicit point: "It's a great way to cross borders and relate to people," says Downs, a Grammy winner who has been singing for years about issues on the border between the U.S. and her native Mexico. Al Chile includes a version of Manu Chao's "Clandestino," a hypnotic cumbia reworked to focus on undocumented immigrants from Latin America. "I've seen things change in 25 years, attitudes toward Mexicans, Mexican-Americans, Latino people," Downs says. "The most difficult situation is dealing with the ignorance about the subject, which is something that I try to do through song."
Taína Asili favors an educational approach, too, spending time performing and in conversation on college campuses. Formerly of the '90s punk band Anti-Product, Asili is also steeped in Afro-Caribbean sounds. Spurred by #MeToo and the Trump administration's lackluster response to Hurricane Maria in Puerto Rico, Asili's new album Resiliencia addresses those topics in two languages. "For me, it's really important to use my bilingual voice, singing and speaking in Spanish and English, to reach as many people as possible," says Asili, who released the song "No Es Mi Presidente" in 2017.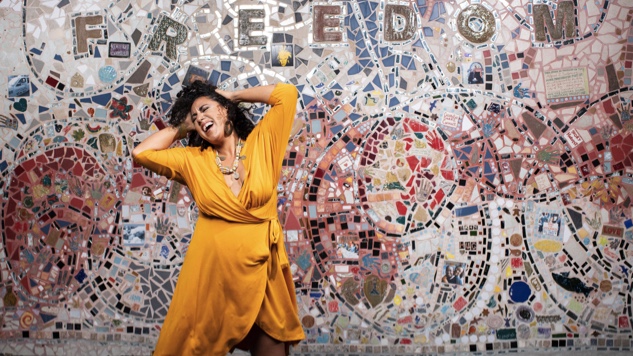 Taíni Asili photo by Mike Morgan
Though she says the amount of protest music probably hasn't changed, the way it's being received by the listening public has shifted. "Because of that reception, that call for protest songs, I do think that there are songwriters who maybe previously might not have felt safe to address certain issues," Asili says. "If you see certain songs in the mainstream addressing sexism, or homophobia, there is now a place for those songs to go in the mainstream that hasn't always been there."
As some artists deal with present-day realities, others are drawing historical parallels. Trump's post-inauguration flurry of half-baked executive orders prompted the chamber-pop singer and multi-instrumentalist Kishi Bashi to write his new album Omoiyari about another unilateral presidential action: Franklin D. Roosevelt's Executive Order 9066, which allowed for the incarceration of Japanese-American citizens in concentration camps during World War II. Born Kaoru Ishibashi, his parents didn't arrive in the United States until well after the war, so the connection to Japanese internment is more historical than personal. Yet anti-immigrant rhetoric from Trump and his lieutenants seemed like a too-familiar echo of the race-based fear-mongering of 75 years ago.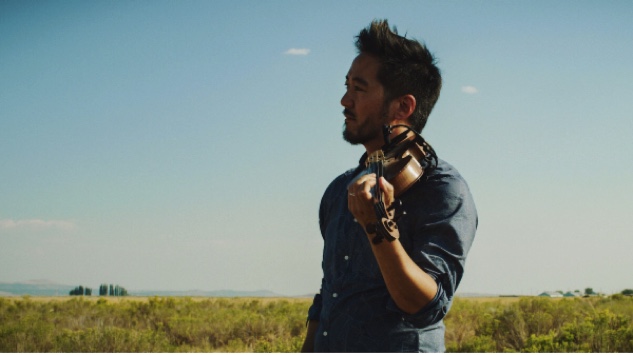 Kishi Bashi photo by Max Ritter
"We're at a pivotal point where America kind of tolerates minority identity, instead of the default white identity, in TV shows and stuff," says Ishibashi, who focused less on overt politics than shades of emotion in the lushly arranged songs on Omoiyari. "It's like the boiling point—this real shift, and I think that's why we see all this conflict."
Though personal perspectives are ascendant in modern protest music, wide-lens views haven't gone away. Son Volt's new album Union has a socially conscious streak. Boston post-punk band Pile recently released "The Soft Hands of Stephen Miller," a savage poke at Trump's hardline nationalist advisor. And perhaps unexpectedly, Cherry Poppin' Daddies, the band behind the 1997 swing-revival hit "Zoot Suit Riot," releases the topical album Bigger Life in June. With more of an alt-rock sound, Bigger Life comprises songs with pointed lyrics about race relations, class-consciousness, the opioid crisis and the erosion of democratic ideals. "What I was actually trying to do on the record was to be deeply critical of racist and authoritarian elements in the U.S., while also being empathetic to working-class frustration, given the reality that the working class is being economically pressured and manipulated simultaneously by an emboldened nationalist movement and their sources of propaganda," frontman Steve Perry says.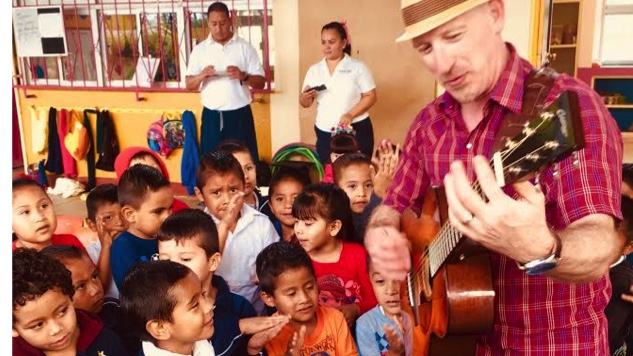 Mister G photo by Katherine Jamieson
Topical songs are showing up in children's music, too. Ben Gundersheimer, a Latin Grammy-winning musician who performs as Mister G, makes a multi-layered point on his upcoming album Beyond Borders. Not only do the songs deal with themes of migration, Gundersheimer recorded the album with a cast of multinational musicians including the Senegalese percussionist Massamba Diop. "It's ironic and disheartening when the adults who are supposed to be leading us are acting like schoolyard bullies," says Gundersheimer, who in August will also publish Señorita Mariposa, a bilingual, allegorical migration story based on one of his songs.
The question, as always, is who is listening. Does protest music broaden perspectives, or is it mostly a way to fire up like-minded audiences? The answer depends somewhat on perspective. Most of Sinkane's audience is not Sudanese, black or Muslim, Gallab says. "So I'm always reaching people who are different from me and bringing them into a culture and understanding of the world that they would have never thought about or experienced until they heard me talk about it."
Singing for like-minded listeners feels like virtue-signaling to Perry, who is hoping to change a few minds. Asili, though, sees value in it, especially for populations that have historically been marginalized. "I believe very strongly in preaching to the choir," she says. "When we're bombarded with stories of our oppression, we need to rally each other and lift each other up, and songs and music are incredibly powerful tools for doing that."