While Traditional Modern Rock is Soul-Searching, Post-Punk is Thriving
Indie rock has an identity crisis and these are post-punk bands are filling that void.
Photos by Tom Ham, Michael Schmelling, Ian Laidlaw, Steve Gullick
Music
Features
Post-Punk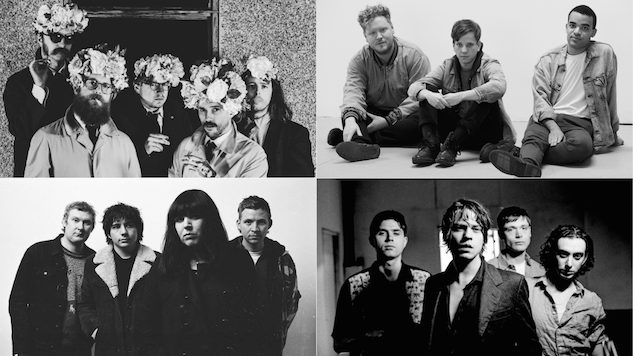 It's no secret that traditional modern rock bands have struggled over the past few years. If you know where to look, you'll still find a seemingly endless amount of great music, but if you haven't done your due diligence, you may feel like the genre is gasping for air.
Bands like Imagine Dragons, The 1975, Bastille and Twenty One Pilots have ruled rock charts and radio stations in recent years. Despite not even fitting into the traditional "rock" category, they've all skyrocketed in popularity, selling tons of records, merchandise and tickets and their singles have infiltrated TV commercials and shopping malls. While these acts have done immensely well with a mediocre output, bands that actually play rock music who have stunning discographies have only done moderately well. Acts like Car Seat Headrest, Courtney Barnett and Parquet Courts don't even come close to mirroring the success of the Imagine Dragons of the world.
If you've been in the loop with alternative rock circles, you already know that women have provided the genre much needed life support. Fairly new acts like Hop Along, Alvvays, Waxahatchee, Snail Mail, Soccer Mommy, Vagabon, Sheer Mag and more have received critical praise and moderate commercial success, but they haven't reached juggernaut status and that's frustrating. Game-changing bands from the early 2000s like The Strokes, The White Stripes, Arcade Fire and Arctic Monkeys became fast, worldwide sensations with their debut albums, but that doesn't seem possible any more given the genre's fall from the popular musical hierarchy.
A decent segment of the genre is just struggling to navigate the current musical landscape, with many bands trying to decide if the typical guitar-bass-drums formula is enough to hold people's attention and compete with the rise of hip-hop, pop, EDM and country music. As a result, many bands have tried to branch out into other genres, but often to mixed results. Plus, many new bands are more than happy to be stale, uninspired reincarnations of bands that already existed while veteran bands are often hesitant to deviate from their tried and true formula.
Indie rock still has tons of great bands, if you know where to look, but you still may feel disillusioned with the genre and want to listen to something different, even if only for the afternoon. Luckily, there's one rock subgenre to sink your teeth into that consistently impresses and has secretly flourished: post-punk.
Just look at the subgenre's leading characters, particularly the up-and-comers. Atlanta trio Omni made a splash onto the scene in 2016 with their spiky debut album, Deluxe and last year's equally exhilarating follow-up, Multi-Task. Omni expertly display their influences (Wire, Television) while also cultivating their own distinct sound through a more lo-fi, garage rock approach. They infuse tantalizing personality and energy, not just into Philip Frobos' animated deadpan, but into their frantic, colorful guitar riffs and their intoxicating stop-start tempos.
Another young American post-punk band that's planted their flag is Los Angeles three-piece, Moaning. After signing with Sub Pop, the band released their self-titled debut album this March and their brooding, synth-laden brand of post-punk is equally electrifying as it is disorienting. Frontman Sean Solomon's reverb-drenched vocals display a level of restraint which allows him to enticingly hold the listener in the palm of his hand through his refusal to succumb to the chaotic nature of the instrumentation via pumping basslines and anarchic guitars.
Cross America's northeast border and you'll find Montreal four-piece Corridor. While this French-Canadian group doesn't sing in English, their music is so emotive and lively that you won't be put off by your lack of foreign tongue. Their jangly, synth-pop-tinged sound will entrance fans of the genre and post-punk newbies alike. On their latest LP, Supermercado, post-punk fans will gravitate towards their tight, neat percussion and spasmodic guitars while others will get lost in their bright vocals and spellbinding soundscapes.
Fly over the Atlantic and you'll find British bands like Shame and Idles who both released powerhouse debut albums that subvert tons of angry, misogynist rock dude stereotypes. Shame's Songs of Praise will go down as one of this year's finest LPs with its scathing, full-throttle guitar and drums assault and ringleader Charlie Steen's thunderous roar, witty lyrics and earth-shattering stage presence. Like Shame, Bristol's Idles have also made waves here in the states with their 2017 debut LP, Brutalism, which also made appearances on many album of the year lists. Tracks like "Mother" and "Well Done" display Joe Talbot's grisly, volatile vocals and the group's no nonsense, pedal to the medal rhythm section, all the while dismantling masculine norms and taking aim at the numerous hot button issues like class warfare and sexual violence. The band has quickly churned out a follow-up LP, Joy as an Act of Resistance, out on August 31 via Partisan Records and it centers on self-discovery, even well into your adulthood, and optimism, especially in the face of internal struggle or grief.
In the land down under, there's Melbourne, Australia's RVG who released their stirring debut album, A Quality of Mercy, late last year. Their music is a melting pot of the band's influences, taking cues from the atmospheric post-punk of Echo and the Bunnymen, the stark vocals of The Go-Betweens, the gothic appearance of The Cure and the emotional longing of The Smiths. However derivative their music may be, it would be unfair to write them off as a retro act because none of their influences were singing about the things frontwoman Romy Vager addresses in her songs, like the plight of being a trans woman, the modern day addiction to the Internet or the danger of mythologizing artists.
In spite of the rather turbulent Spanish political climate, Catalonia quartet MOURN aren't interested in singing about the growing divide between Catalonia and the rest of Spain. The band had bigger fish to fry in the form of rebellion against their previous record label who allegedly withheld hard-earned money from the band and tried to prevent them from releasing their second album. Their latest LP, Sorpresa Familia, released earlier this year, centers on their record label's purposeful manipulation as well as the peaks and troughs of being young. Led by the powerful guitar, vocal and lyrical tag team of childhood friends Jazz Rodriguez and Carla Perez, the band makes forceful, adrenalized post-punk that's moving enough to paint poetic lyrical landscapes and with a rhythm section skilled enough to impress fans of virtuoso hardcore, metal or hard rock.
Post-punk isn't experiencing a shortage of exciting, diverse new bands, but it's also worth mentioning that the genre's mainstays have been delivering high quality art as well. Established bands like Iceage, Protomartyr, Ought, Savages, Algiers and Preoccupations have all released jaw-dropping recent full-lengths that have impressed critics—London's Savages with 2016's Adore Life, Detroit's Protomartyr with 2017's Relatives in Descent, Atlanta's Algiers with 2017's The Underside of Power, Denmark's Iceage with this year's Beyondless, Montreal's Ought with this year's Room Inside The World and Calgary's Preoccupations with this year's New Material.
There are even some legendary groups still showing their staying power like Gang of Four (who recently released an EP), The Raincoats (who are still playing shows and whose debut album was the subject of a new 33 1/3 book by Jenn Pelly), "the prince of darkness" Nick Cave (who's still touring and whose latest LP, Skeleton Tree was hailed as a modern classic) and up until the recent death of frontman Mark E. Smith, The Fall (who refused to stop touring in spite of Smith's wild, visible onstage deterioration before his eventual death and whose 32 studio albums included their critically-acclaimed 2017 album, New Facts Emerge).
Post-punk isn't going through an existential crisis or an identity crisis. In fact, the genre is arguably as lively as it's ever been. And while modern indie rock offers loads of great choices, especially from young, new female artists, the overall genre tends to be hit or miss. Post-punk on the other hand, has its own mediocre bands, but they seem to be vastly outnumbered by all the talented new, established and veteran acts. So, if you haven't already, start digging in the post-punk crates at your local record store and see if they help to fill the void that disappointing indie rock bands may have created for you.