Post Animal's Forward Motion Godyssey Is a Multidirectional Misstep
The Chicago band dabbles in everything without honing into a cohesive sound
Music
Reviews
Post Animal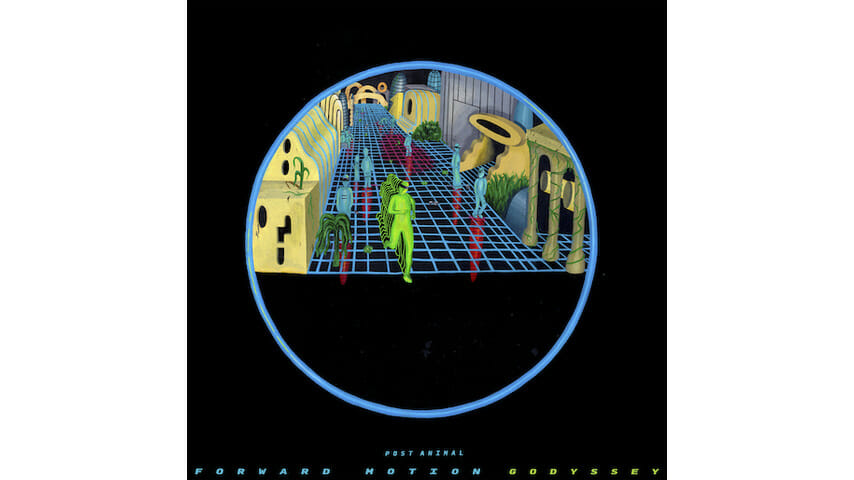 Chicago psych outfit Post Animal has come a long way since their 2018 debut When I Think Of You In A Castle, a no-frills, poppy, exciting record that served as a cohesive and crisp introduction to their versatility. The band embraced psychedelia in all of its glory, dabbling in the genre's many nuances to create a world filled with complicated guitar licks, oversaturated drums and fuzzy kaleidoscopic power-pop goodness.
The band's latest effort Forward Motion Godyssey, is the logical next step. If When I Think Of You… represents the band at their most open, Forward Motion Godyssey sees them more isolated and calculated, perhaps due in part to the band's eight-day recording session in Big Sky, Montana. As a result, the unpredictable charm and confidence that made their debut so special are not as effective or present throughout their sophomore release, and at times, it ends up repeating the genre grab-bag formula that made their first album unique instead of reimagining their sound as something more cohesive.
Forward Motion Godyssey opens with "Your Life Away," which is reminiscent of a more sensual version of Electric Light Orchestra, one of the band's most obvious influences. Clocking in at nearly six minutes, the repetitive lyrics and lo-fi production of the slow-burning track gradually begin to blend together, existing somewhere between familiar and unfamiliar territory for the band, begging for them to lean further into something new. The chorus, "Take your love away / Would it ever be enough?" is asked repeatedly but is almost incoherent underneath the layers of crashing drums exploding against the synths. It isn't until the last two minutes when the song finally opens itself to variation with a lush outro featuring sparkly keyboards layered over fuzzy drums colliding into the guitars. It's punctuated with an electrifyingly confident guitar solo, reminding listeners of their roots. But you end up waiting for a satisfying resolution to the song that simply never comes.
As the guitar feedback fades out, a faint stampede of noise enters to introduce "Post Animal," an exciting Groundhogs-esque jam that evokes psychedelic rock at its most obvious. It relies on simple, monotonous lyrics ("Are you, are you, are you animal? / Are you, are you, are you honest?) and chugging guitars to paint a frantic, nostalgic picture full of life, resulting in one of the record's highlights. "In a Paradise," another high point, pays homage to psychedelic doom rock with deep, satisfying crescendos and echoey vocals.
Sitting in between such peaks are hollow attempts at what can best be described as sparkly indie power-pop jams that frankly don't resonate as well as they did on their debut. "Schedule" sounds straight out of another universe, dialing into '80s new wave sensibilities with cheesy lyrics: "Baby if you need me, I can fit you in my schedule / Baby when I need you, you can fit me in your schedule." All the elements are there, but it sounds like a simplistic, feel-good copout of a promising single that doesn't fit into the musical picture of the first two tracks. "Schedule" likewise feels vapid and predictable with a trite homage to old-school love songs of the '60s laced with poppy '70s synths.
The rest of Forward Motion Godyssey plays like an exhausting game of "psychedelic bingo" as the band jumps from eerie lo-fi burners to fast-paced blues rock with some R&B sprinkled in between, not offering much of a buffer to fully marinate on a single distinct sound to build upon. One of the few times this genre disconnect does work well is after the predictable yet entertaining two-minute-long instrumental "The Whole." You almost expect some sort of Rush-level lore to kick in and transport listeners into a fully stereotypical hard-hitting progressive psych jam. Instead, we get "How Do You Feel," a finer example of the band's modern interpretation of their inspirations. It's sexy and different, yet it fits into the larger story Post Animal might have been trying to tell with its sensual buildups and explosive guitar parts. They definitely have soul, and it would have been exciting to see them blend it into their heavier moments rather than playing with lighthearted pop ballads that don't offer much at all.
All things considered, Post Animal have been able to thrive amongst a niche of bands reviving and staying true to the characteristics of nostalgic genres, and they are better at it than most. The further the band gets from their genre's standard tropes, the more their dynamic lyricism and detail-oriented instrumentation get highlighted, resulting in a few breathtaking songs. But when packaged into Forward Motion Godyssey as a whole, the pacing is slightly off, making for a shaky rollercoaster ride of sounds that don't always reach its thrilling peak. The ones that do, though, are exhilarating.
Revisit Post Animal's 2018 Paste session: