Wolfgang Amadeus Phoenix Turns 10: Revisiting the Suave Indie-Pop Classic
In 2009, synth-pop and electro-rock were all the rage, but French rockers Phoenix took the cake.
Photo by Shervin Lainez
Music
Features
Phoenix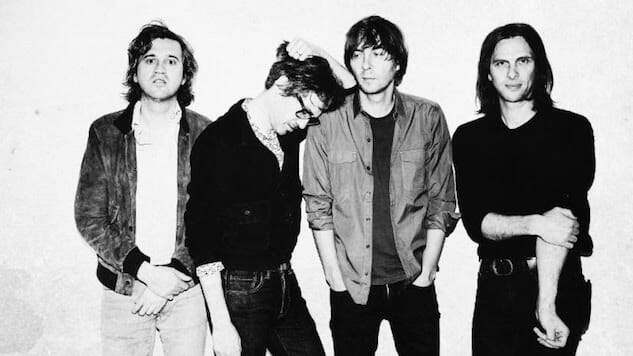 There's nothing more exhilarating than an album where virtually any track could be a single. French rockers Phoenix have released several solid records—2000's United merges their slick, funky side with scrappy hues, 2006's It's Never Been Like That saw them begin to hone their suave singalong rock and 2013's Bankrupt! flexed their effervescent synth-pop muscles. But their fourth album, 2009's Wolfgang Amadeus Phoenix—which turns 10 on Saturday, May 25,—achieved a mind-numbing, consistent catchiness and remains their best work to date.
In the mid to late 2000s, synth-pop and electro-rock bands were all the rage. Indie-pop staples like MGMT, Empire of the Sun, M83 and Passion Pit fused funk, electronica and soft rock in a way that was palatable for young listeners. Phoenix also joined their ranks, and along with records like M83's Hurry Up, We're Dreaming, Wolfgang Amadeus Phoenix sits among the very best from acts of that era. You would still get a giddy response if you put on an Empire of the Sun or Passion Pit record at an indie rock disco. But Wolfgang Amadeus Phoenix has just as much dancefloor staying power and many more garage rock-isms worthy of collective drunk chants.
With Philippe Zdar (one-half of electronic duo Cassius) on production duties and still taking cues from the funky electroscapes of fellow countrymen Daft Punk and Air, Wolfgang Amadeus Phoenix tightened up Phoenix's rock chops and heightened their synth-pop peaks. Phoenix are sophisticated, but not cold, anthemic, but not cheesy and simultaneously high-brow and low-brow. Their ambiguous lyrics, laced with references to old world Europe and potentially overwrought romantic metaphors, brought a charming mystique to their bubbly Euro-pop, and both casual and steadfast listeners latched onto their instantly memorable hooks.
Everybody knows their song "Lisztomania" (especially thanks to a recent, near-200 percent streaming spike brought on by AOC). But how did a track whose title is derived from the 19th century fangirl reaction to the music of Hungarian composer Franz Liszt become an undisputed indie rock classic in 2009? First, start with their pogoing guitar line, both precise and unmistakable. Then, add dizzying drums—not to mention the kick drum porn—that engulfs you in a side-swiping, sonic whirlpool, revolving vocal "Do let's," a chorus underpinned by muted keys with maximum singalong capacity and lyrics that compare the magnetism of a romantic relationship to that of the audience and performer. Finally, construct a bridge with zigzagging synths and head-bobbing melodies just as steep as the chorus, and you have one hell-of-an indie hit on your hands.
After that near-perfect pop/rock tune, "1901" enters the fold. The song landed a nifty spot in a U.S. Cadillac commercial, and it's easy to see why—it sounds like a stylish car racing through a tunnel under the moonlight with no other vehicles in sight, which is essentially the concept of every luxury car commercial ever. Backed with chugging hi-hats that sound like shakers, a resolute guitar line, fuzzy neon synths and a glaze of echoing chrome flourishes, "1901" sees frontman Thomas Mars at his most exuberant. His chorus vocals drip, and his sassy, yet trustworthy inflection on the verses works wonders for his voice.
Placing a two-part, largely instrumental odyssey in the middle of a hooky rock album might seem gratuitous, but "Love Like a Sunset" isn't simply a vehicle for Phoenix to prove they're capable of making something a bit more complex and unconventional. It's a cross section of the album's sleek musical backing. The sharp guitars snake, the charred synths glow and Mars' vocals ascend with pomp.
Throughout the album, Thomas Hedlund's drum performances are snappy and skillful (watch a few Phoenix drum covers and you'll realize just how elusive and machine-like his drumming is), and the drum production is exceptional. Maybe it's not surprising that a radio rock record is unfathomably well-produced, but it's hard to remember the last time audio junkies have universally fawned over the drum compression of a commercial alt-pop album—the clarity will make audiophiles weep.
While it's clear that Phoenix excel at earworm choruses, they should also be praised for their pre-chorus prowess. On "Lasso," the air-punching starts at the onset of its pre-chorus, and it's just one of several instances when Phoenix roll out the ramp for the chorus' swift, heady takeoff. The driving pre-chorus on "Countdown" outshines its actual chorus, leaving the still catchy refrain sounding a tad deflated.
Repetition and wordplay are also strong suits for the band. "Rome" has the same kind of supposed dim-witted repetition that makes rockists sneer at pop songs—the song's title is shouted at least four dozen times consecutively in the bridge, and each chorus contains another six mentions. But Phoenix prove the point that pop stars have been trying to make—lyric repetition is basically dopamine for the brain and shouldn't be fought against.
Phoenix's shrewd wordplay deconstructs phrases with the same adroitness they use in their satisfying musical breakdowns. On "Lisztomania," there's "Disgust, disgust, disgust, discouraged," on "Fences" you'll hear "Dissi, dissi, dissidents" and on "Girlfriend," they press their luck, but land on their feet ("Whispering unnecess-ess-essary unless-ess-ess you're in"). It's an elevated take on the same stuttering lyrical device that makes Roger Daltrey's vocals on The Who's "My Generation" so succulent.
With Wolfgang Amadeus Phoenix, the quartet achieved heaps of commercial and critical acclaim. They appeared on Saturday Night Live a month before the album's release, purely off the strength of lead single "1901," and the LP landed in the top 10 of virtually every end-of-year album list (including Paste's). It also won a Grammy for Best Alternative Music Album in 2010, and its songs were everywhere—featured in ads for Playstation, videogames like Guitar Hero and TV shows like Gossip Girl. Thanks to that album's release, Phoenix have graced nearly every notable festival main stage across the globe and continue to do so. In fact, last month's Just Like Heaven festival bill proved several 2009 indie giants can still thrill. To this day, Phoenix's live set contains more selections from their 2009 album than any other. Their two subsequent albums, Bankrupt! and Ti Amo, are pleasant enough listens, but neither have the staying power or pop cultural pervasiveness of Wolfgang, nor do they have the album's secret sauce.
The pièce de résistance of Wolfgang Amadeus Phoenix is its contradictions—it's gritty and smooth, slippery and palpable, jagged and straight—but hyper-attentive listeners got the advance notice of its paradoxical nature from Thomas Mars himself via the album's first lyric: "So sentimental / Not sentimental, no."