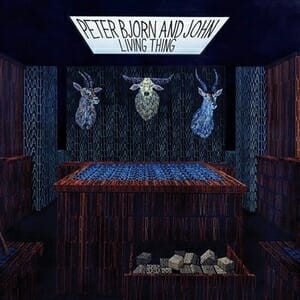 Swedish trio moves into the future via the '80s
These tuneful Swedes had already been making records for four years by the time 2006's Writer's Block turned up on the playlists of everyone from NPR to Kanye West, and now it's time to follow up that commercial breakthrough. While '80s synth pop has come back into fashion after years in the critical wilderness, it still counts as a daring creative shift for the trio to move so confidently into over-the-top electronic pastiches on their fifth studio release. Still, Living Thing is hardly a reverent tribute to the era of Depeche Mode and Wham!, as the three tunesmiths augment robot riffs and splashy drums with very human handclaps and vocal bass lines, never failing to muss up their experiments with gamelan-tinged garage rock and African guitar pop. The album is uneven by previous PB&J standards, but the band earns high marks for proving their hooks can translate into any stylistic language.

Listen to Peter Bjorn and John on MySpace.