Perfume Genius Announces Remix EP Reshaped, King Princess "Run Me Through" Remix
Images via Emma McIntyre/Getty, Matador Records
Music
News
Perfume Genius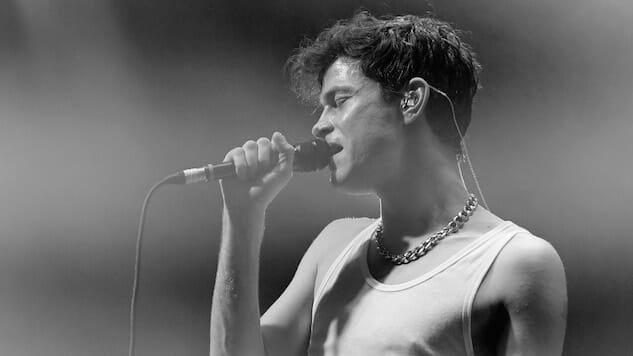 Perfume Genius' Grammy-nominated album No Shape will be getting the light shone on it again with a special remix EP reengaging the record. Reshaped will feature remixes of six songs off Perfume Genius' fourth album. While the full EP won't be released until June 8, the last track on the EP has been released first and is out now: King Princess' remix of "Run Me Through."
Mikaela Straus (King Princess) and Mike Hadreas (Perfume Genius) spoke to Zane Lowe of Beats 1 about the song. Hadreas called the original version a slow burn, while Straus added that her remix gives it more drive and adds a "nasty beat."
Get ready for a new #WorldRecord!@KingPrincess69 remixed @perfumegenius' #RunMeThrough. Hear it first on Monday with @zanelowe:
9AM LA / 12PM NYC / 5PM LDN.https://t.co/jxcMj34eirpic.twitter.com/q7Y7gtGGJ6

— Beats 1 (@Beats1) May 27, 2018
Including King Princess, the new EP will feature remixes by six different artists: mmph ("Braid"), Mura Masa ("Slip Away"), Jam City ("Just Like Love"), Laurel Halo ("Die 4 You") and No Shape producer Blake Mills ("Every Night") will join King Princess ("Run Me Through") on the EP.
When choosing who would participate on the EP, Hadreas told Lowe he tried to pick people who could match the jumble of emotions featured on No Shape.
"I wanted to pick people that I knew would bring that weird sort of tension to it, you know. That it would it be pop, but it would have something subversive underneath," Hadreas said.
Listen to King Princess' remix of "Run Me Through" below and check out Perfume Genius' tour dates further down.
Perfume Genius Tour Dates:
June
08 – Forest Hills, N.Y. @ Forest Hills Stadium w/ Belle and Sebastian
13 – Madrid, Spain @ Mad Cool Festival
14 – Lisbon, Portugal @ Passeio Maritimo de Alges
August
08 – Santa Barbara, Calif. @ Santa Barbara Bowl w/ Bon Iver
10 – San Francisco, Calif. @ Outside Lands Festival