Peel Dream Magazine Announce Their Second LP, Release New Single "Pill"
Images courtesy of the artist, Slumberland Records
Music
News
Peel Dream Magazine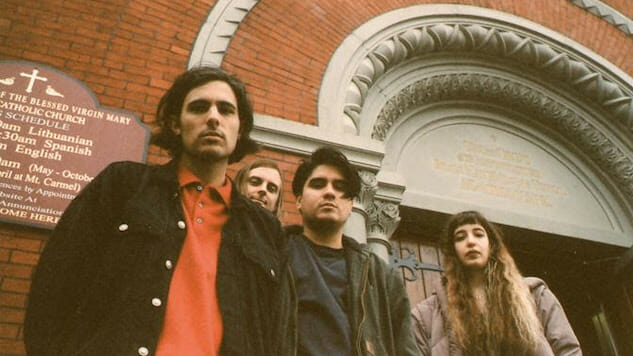 NYC-based dream-pop band Peel Dream Magazine have announced the arrival of their second full-length album, Agitprop Alterna, out April 3 via Slumberland Records. The band also shares the music video for the first single off their forthcoming album, "Pill."
The band's previous effort was 2018's Modern Meta Physic, which drew inspiration from the hazy sound of alternative '90s pop. Agitprop Alterna seems to be leaning into a solidly shoegaze sound, with distinct homage to acts like My Bloody Valentine and Stereolab enmeshed in the fuzzy guitar and vocals.
The music video for "Pill" is just as fuzzy, emulating a staticky TV set with pixelated versions of the band members playing their instruments, also seeming to reference the '90s roots of shoegaze.
Peel Dream Magazine will tour before the album's release, staring in New York City and ending at Ohio's Oberlin College.
You can pre-order Agitprop Alterna here, and check out the music video for "Pill," Peel Dream Magazine's tour dates and the details of Agitprop Alterna below.
Agitprop Alterna Tracklist:
01. Pill
02. Emotional Devotion Creator
03. It's My Body
04. Escalator Ism
05. Brief Inner Mission
06. NYC Illuminati
07. Wood Paneling Pt 2
08. Too Dumb
09. The Bertolt Brecht Society
10. Permanent Moral Crisis
11. Do It
12. Eyeballs
13. Up and Up
Agitprop Alterna Album Art:
Peel Dream Magazine Tour Dates:
January
29 – New York, N.Y. @ Baby's All Right
30 – Winooski, Vt. @ The Monkey House
31 – Montreal, Que. @ O Patro Vys
February
01 – Ottawa, Ont. @ Cinqhole
02 – Toronto, Ont. @ The Piston (CANCELLED)
03 – Detroit, Mich. @ Outer Limits Lounge
04 – Milwaukee, Wis. @ The Cactus Club
05 – Chicago, Ill. @ Sleeping Village
06 – Oberlin College, Ohio @ The 'Sco