Watch the Video for "Quietest Friend," the Latest Single from Pedro the Lion
Photo by Ryan Russell
Music
News
Pedro the Lion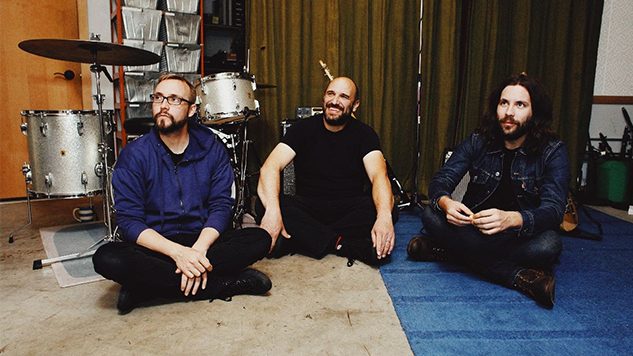 On Wednesday, Polyvinyl released "Quietest Friend," the third single from Pedro the Lion's forthcoming album Phoenix, coming on Jan. 18.
This album is the band's first in 15 years, since Achilles Heel came out in 2004. David Bazan, the group's frontman, found himself driven to reform Pedro the Lion after a serendipitous stop in his hometown of Phoenix, one which reminded him that anything can become alien to us, even the places we know most intimately. After so long away from this particular project, Bazan slips back into the band's sound like a comfortable, worn shoe, with these new songs fitting in all the right places. "Quietest Friend" follows much the same emotional trajectory as "Yellow Bike" and "Model Homes," the other advance tracks from Phoenix, exploring just what it means to return home after spending so much time away.
"Quietest Friend" certainly delivers on the Seattle band's characteristic sad-core indie vibe, with melancholic guitars cascading alongside introspective lyrics. The single primarily hangs its thematic hat on the idea of "having to be better to yourself in order to be better to others," according to a bio accompanying this latest song. Indeed, Bazan can be seen chasing a doppelgänger of himself around the carpeted hallways of a rundown apartment building, seeking to find the best version of himself. This newest video keeps motifs from "Yellow Bike," including the kid on the bicycle, now riding down the halls of corridors like a depressing, rather than terrifying version of The Shining.
From fifth-grade transgressions to musings about how "nothing lasts forever," Bazan lays bare his past, present and future selves in this third single from Phoenix.
Watch the "Quietest Friend" video (dir. Jason Lester) along with footage from Bazan's 2016 Daytrotter Session below, and see Pedro the Lion's 2019 tour dates further down.
Pedro the Lion Tour Dates:
January
18 – Seattle, Wash. @ KEXP at The Gathering Space (free and open to the public)
February
08 – Boise, Idaho @ Neurolux #
09 – Salt Lake City, Utah @ Metro Music Hall #
10 – Denver, Colo. @ Bluebird Theater #
12 – Tucson, Ariz. @ 191 Toole #
13 – Phoenix, Ariz. @ Crescent Ballroom Lounge #
14 – Los Angeles, Cali. @ Lodge Room #
16 – San Diego, Cali. @ The Irenic #
17 – Santa Ana, Cali. @ The Observatory #
19 – Oakland, Cali. @ The New Parish #
20 – San Francisco, Cali. @ The Independent #
22 – Portland, Ore. @ Revolution Hall #
23 – Tacoma, Wash. @ Alma Mater #
24 – Vancouver, B.C. @ Biltmore Cabaret #
May
01 – Kansas City, Mo. @ recordBar $
02 – St Louis, Mo. @ Old Rock House $
03-05 – Atlanta, Ga. @ Shaky Knees Festival
06 – Carrboro, N.C. @ Cat's Cradle Backroom $
07 – Philadelphia, Pa. @ Union Transfer $
08 – Washington, D.C. @ Rock & Roll Hotel $
10 – Brooklyn, N.Y. @ Music Hall of Williamsburg $
11 – Boston, Mass. @ Brighton Music Hall $
13 – Toronto, ON @ Lee's Palace $
14 – Ferndale, Mich. @ The Loving Touch $
15 – Columbus, Ohio @ Skully's $
17 – Indianapolis, Ind. @ Hi-Fi $
18 – Bloomington, Ill. @ Castle Theater $
21 – Minneapolis, Minn. @ Fine Line Music Cafe $
(# – w/ Tomberlin)
($ – w/ John Vanderslice)