Paul McCartney Penning It's a Wonderful Life Stage Adaptation
Sir Paul's adaptation of the 1946 film launches in late 2020
Photo by Gustavo Caballero/Getty
Music
News
Paul McCartney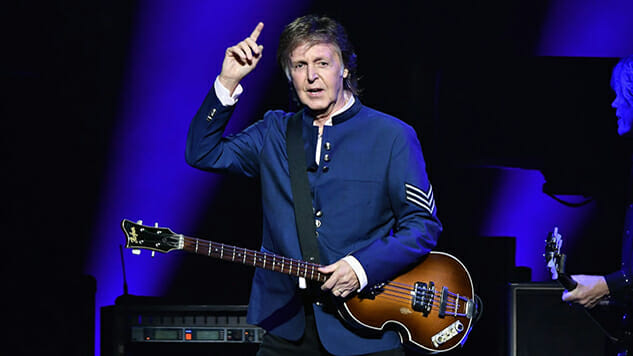 It truly is a wonderful life because Paul McCartney has been secretly writing his first stage musical ever. The revered former Beatle is working on a new adaptation of the iconic Christmas flick It's a Wonderful Life, which is expected to hit the stage in late 2020.
Paul is writing his first musical! An adaptation of one of the world's most loved films 'It's A Wonderful Life'! More Info HERE: https://t.co/A7mxg3Pn6epic.twitter.com/kokfctmlnU

— Paul McCartney (@PaulMcCartney) July 18, 2019
McCartney is set to pen the music and lyrics with famed screenwriter and playwright Lee Hall, who's best-known for writing the 2000 comedy-drama Billy Elliot, as well as the book and lyrics for its musical adaptation. Hall, also known for Rocketman, will write an accompanying book for the It's a Wonderful Life adaptation.
But that's not the only theater giant McCartney will be teaming up with. Theater and film impresario Bill Kenwright has boarded the project as a producer. One of the U.K.'s most successful stage producers, Kenwright is known for the long-running West End favorite Blood Brothers and the record-breaking Joseph and the Amazing Technicolor Dreamcoat.
It looks like McCartney will be in good company. And he's clearly been toiling away at his writing desk, as he has nearly finished all the songs for the musical.
Kenwright originally approached McCartney about a possible adaptation three years ago after first acquiring the rights to the much-loved movie.
"Bill had asked if it was something I might be up for," McCartney said in a statement. "Writing a musical is not something that had ever really appealed to me but Bill and I met up with Lee Hall and had a chat and I found myself thinking this could be interesting and fun. It's A Wonderful Life is a universal story we can all relate to."
When McCartney presented his first demo of an opening song to Kenwright, he was shocked and excited.
"Our hero was a musical theatre writer," Kenwright said of McCartney.
Kenwright said working with McCartney and witnessing his gift of melody and composition is a dream come true.
"It's musical theatre," he said in a statement. "But it's always McCartney."
But most of all, Kenwright said he hopes to do the film justice.
"Paul, Lee, and I use the word 'cherish"'when we refer to our source material," he said. "And that's what we intend to do—cherish Frank Capra's creation."
The film is also Hall's favorite of all time, as is McCartney's music.
"It has absolutely everything comedy, pathos and a rare humanity which has touched generation after generation," Hall said. "Yet it just couldn't be more relevant. To give it a life on the stage is an immense privilege in itself but to do with Paul McCartney is off the scale. Paul's wit, emotional honesty and melodic brilliance brings a whole new depth and breadth to the classic tale. I feel as if an angel must be looking after me."
A warmhearted Christmas classic, Capra's It's a Wonderful Life has become a mainstay of American culture since its 1946 release. Met with great commercial and critical success, the fantasy-drama film was directed by Frank Capra, the 1930s and '40s creative force behind It Happened One Night and Mr. Smith Goes to Washington, and a man with a pretty compelling rags-to-riches story of his own.
Now 70 years since its release, the film still remains relevant to audiences today as a reminder to cherish your loved ones and the life you have.
The beloved artifact of American cinema was based on the short story The Greatest Gift by Philip Van Doren Stern and has since become a classic Christmas tradition, and now marks McCartney's first foray into theater.
Stay tuned for more on the show and hear a 1990 McCartney performance from the Paste archives below.