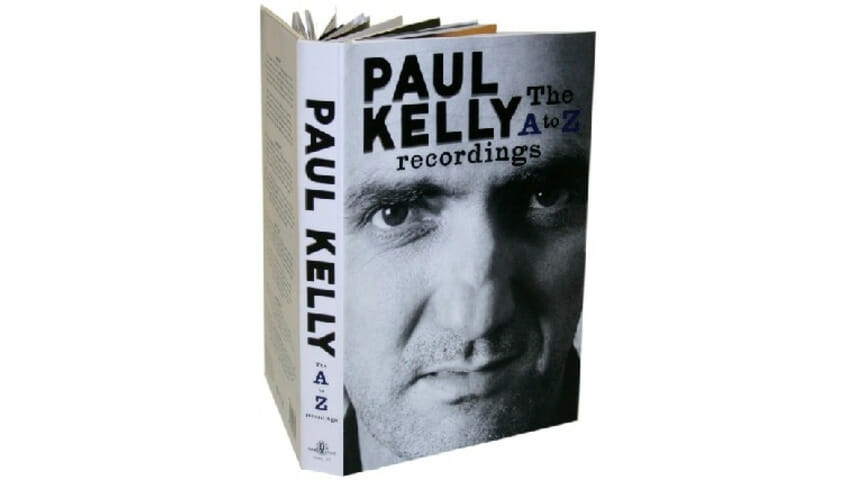 Thirty years, stripped to the bone
It would be an audacious tour for any musician: One hundred and five songs in each venue, ordered alphabetically, performed over the course of four nights and stripped to their simplest acoustic presentation. Few songwriters have a catalog that could sustain it, and few performers have the chops to keep the sound of just guitar and voice from slipping into tedium.
Australia's favorite songwriter, Paul Kelly, has been touring on and off with this format since 2005, and he's chronicled the shows with his new release, The A to Z Recordings. Weighing in at eight CDs—six and a half hours of unplugged live performances—a release of this scope is going to be either a self-indulgent miasma, or a celebration. For those that have been following Kelly's 30-year career, it's no surprise that this project is the latter.
Kelly's songs have always been deceptively simple, perfect character portraits or narratives that condense a novel's worth of story into a four minute gem. One of his earliest songs to arrive on the U.S. shores was "So Much Water, So Close to Home," his pitch perfect interpretation of the Raymond Carver classic minimalist short story, "Everything's Turning to White." This massive career retrospective shows that he's been tuned into that sensibility ever since. Kelly writes evocative gems that distill a novel's worth of narrative into a four-minute pop classic. Like the best fiction writers, he transforms the smallest everyday item, a winter coat or holiday gravy, into talismans of redemption and loss, with simple, unadorned language. Full to the brim with lust, humor, and fun, the songs play up the writer's flawed and human foibles. Standout tracks include "How to Make Gravy", perhaps the best Christmas song ever written, "Love Never Runs on Time", a perfect pop gem, and "Other People's Houses", written from the perspective of a five-year-old accompanying his mother on her cleaning duties.
In some ways, it's no surprise that 17 albums into his career, success in the U.S. has eluded Kelly. His songs are so steeped in Oz that even the simplest of them smacks of that exotic land, where Christmas is celebrated in sweltering heat, the sports heroes are cricket batsmen, the race politics pit British lords against aboriginal rights, and where Bar and Ma can plausibly be made to rhyme. But Down Under, even the most cynical music-industry types trade stories about which Paul Kelly songs have brought them to tears.
So many songs, arbitrarily ordered and performed so sparely threatens to expose overused tricks or crutches, but Kelly manages to keep things going, changing tempo and style, theme and attitude adeptly enough to keep each track fresh. Songs that have become national anthems, such as "To Her Door" or "From Little Things, Big Things Grow" are given no more weight than goofy cricket ditties such as "Shane Warne." In America, where Kelly hasn't moved the needle since the late '80s, it lets listeners hear the songs without the weight of their history.
Currently, the collection is only available through iTunes in the US. The Aussie release has a companion "mongrel memoir", How To Make Gravy, in which Kelly writes the stories behind each of the songs in the collection. For his fans, these two companion pieces are a revelation. For the newcomer, they represent a transparency into the craft of songwriting that is unsurpassed in pop music today.