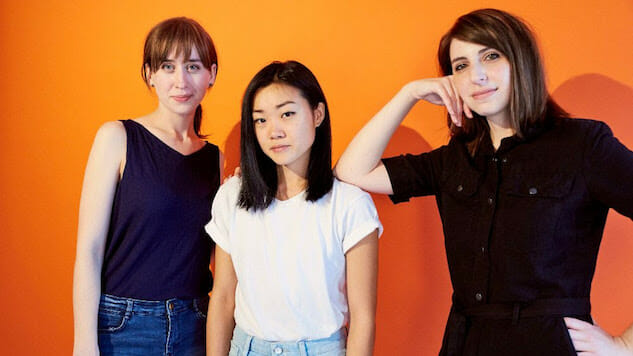 Daily Dose is your daily source for the song you absolutely, positively need to hear every day. Curated by the Paste Music Team.
Brooklyn DIY trio Patio started as a joke—now, they're a force to be reckoned with. Music writer (and former Paste editor) Loren DiBlasi, who had never played an instrument in her life, claimed she was a member of a band called Patio at a party in 2014. "How great would that be for a band name of people trying to figure out their way in the world?" she thought, inspired by its connections to youthful springtime day drinking: "Patio. It's perfect." Soon, Patio was more than just a name. DiBlasi quickly picked up the bass, teaming up with burgeoning drummer Alice Suh and guitarist Lindsey-Paige McCloy to make minimalist, poetic post-punk.
Earlier this year, the three-piece released their debut LP, Essentials, on Fire Talk records—one of Paste's, well, essential post-punk records of 2019. Today (Dec. 17), they're back with "Reality State," a sprawling, searching Essentials B-side that takes several sharp turns. Fittingly, the song was inspired by a "long and winding" chat with a cab driver and former real estate agent from Dubai:
"Reality State" takes its title from a long and winding conversation with a cab driver on my way to band practice about his previous life selling real estate in Dubai and all of the artifice that accompanied it—fake names, glamorous backstories, renting a Rolex for an hour to wear to the client meeting to help seal the deal. Due to some sort of linguistic mix-up, he used the beautiful and compelling phrase "reality state" instead of "real estate" throughout his 23-minute Wild West tale.
This song is the older cousin of "New Reality" from Essentials and presents a different take on the cognitive dissonance of living in a world on fire. "Reality State" is more concerned with personal dynamics—identity construction and performance, building and maintaining connection, and making space for worry about small and big things at the same time. It's a snapshot of summer 2016-era simmering discomfort. As we dive into writing more and more new material, we're releasing this remaining track from the 2017 Essentials sessions as a bookend or a final celebratory balloon.
Listen to "Reality State" below.