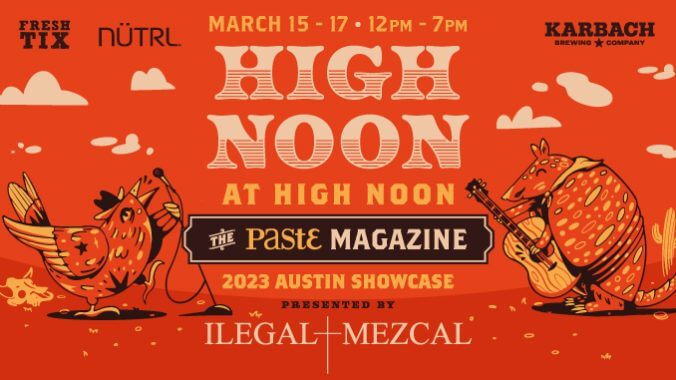 PROMOTIONAL
Paste will be back in Austin this spring with our friends from Ilegal Mezcal and 33 of our favorite bands. We'll be at High Noon, just east of downtown Austin, from 12pm to 7pm on March 15-17, with bands starting every 40 minutes on the indoor and outdoor stages.
Here's the full line-up with a few more special guests to be announced:
March 15
12:00pm – Devon Gilfillian
12:40pm – TBA
1:20pm – Barrie
2:00pm – Kate Davis
2:40pm – Michigander
3:20pm – Trials of Cato
4:00pm – Thao
4:40pm – Miss Grit
5:20pm – SUSU
6:00pm – TBA
6:30pm – Brian Sella (of The Front Bottoms)
March 16
12:00pm – TBA
12:40pm – Annie Blackman
1:20pm – TBA
2:00pm – William Prince
2:40pm – Dream Wife
3:20pm – Overcoats
4:00pm – Bonny Doon
4:40pm – Sunny War
5:20pm – The Bad Ends
6:00pm – Esther Rose
6:30pm – Sarah Shook & the Disarmers
March 17
12:00pm – C K Talkington with Renee Zellweger
12:40pm – TBA
1:20pm – Far Caspian
2:00pm – Fruit Bats
2:40pm – Why Bonnie
3:20pm – Darling West
4:00pm – Cheekface
4:40pm – Eshu Tune (Hannibal Buress)
5:20pm – Death Valley Girls
5:55pm – McKinley Dixon
6:30pm – Ron Gallo
You can RSVP to attend here.
Thanks to our presenting sponsor, Ilegal Mezcal, and additional sponsors Karbach Brewing and NÜTRL Vodka.
Space is limited so come early! And if you can't make it, we'll be recording all of the performances to share with you here at PasteMagazine.com and the Paste YouTube channel.