Osheaga Festival 2019 Captured the Hearts of Gen Z and Millennials
Photos via Benoit Rousseau, Pat Beaudry, Tim Snow
Music
Features
Osheaga Festival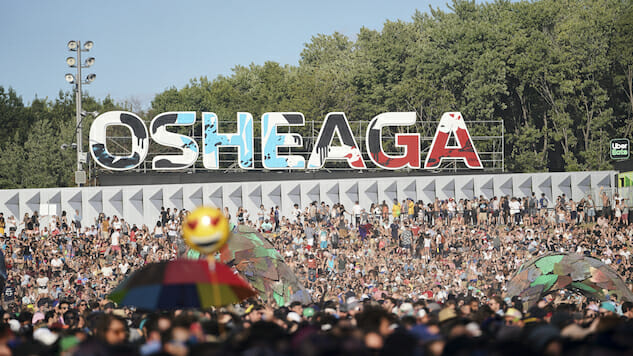 For American music fans who are unfamiliar, Osheaga has been a hidden gem for over a decade. The annual, three-day Montréal event has been around since 2006, and it's one of the city's (and Canada's) premier music festivals, alongside Montréal Jazz Festival and POP Montréal.
This year's Osheaga lineup was a musical microcosm of 2019. Pop, hip-hop, Latin and EDM music reigned supreme, as they have in every other corner of the music world. Lineups across North America have finally caught up with what mainstream listeners want, but fans who loved the traditionally indie rock-centric leanings of Osheaga probably didn't leave satisfied, unless they were also interested in adult contemporary acts like The Lumineers, City and Colour, Hozier or Kodaline. Osheaga organizers booked artists who the 18-25 demographic are obsessively streaming and making memes about, but they also tried to preserve the festivals roots.
Booking Childish Gambino and Tame Impala as Sunday night's closers was a no-brainer. Though they've headlined nearly every major festival in the last two years, they both have indie cred and mainstream appeal, plus they're known for their live spectacles. While The Lumineers were a head-scratching snooze during the Friday night headline slot, Saturday night's main event—The Chemical Brothers—was the festival's kryptonite. The U.K. electronic duo and legacy act rarely performs in North America these days (it was their first Montréal show in 17 years), so for Osheaga to pull off this left-field booking—one that Coachella or Lollapalooza would likely shy away from—and trust that festival-goers would come along for the ride is a testament to their artistic vision.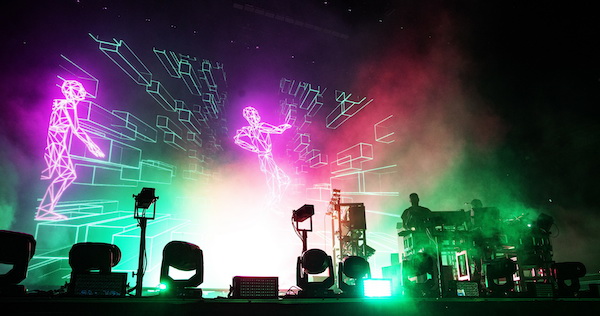 The Chemical Brothers
Where the festival faltered is by flooding the lineup with heaps of trendy twenty-something artists who, despite their differing musical categorizations on paper, each share similar musical elements—trap beats, lo-fi production, R&B vocals, dejected lyrics, wonky synths, etc. Everyone knows that chill vibes are what the kids are streaming, but when inundated with so much of it at a three-day festival, it got a bit old. It's hard to fault the festival for booking popular acts—maybe the onus is more so on the acts, themselves, to differentiate their sonic palette from that of their peers.
While Osheaga got a lot right in their top tier (Childish Gambino, Janelle Monae, Rosalía, Tame Impala, Chemical Brothers) and a few right in their bottom tier (Fontaines D.C., Nilufer Yanya, U.S. Girls, Francis and the Lights), they struggled to pack their medium-sized font lineup with interesting acts that did more than just set a mood, with the occasional exception (King Princess, Denzel Curry, Tierra Whack). Their 2018 mid tier boasted Billie Eilish, St. Vincent, Blood Orange, Noname, Blondie, Cigarettes After Sex, Julien Baker, Alvvays and more, which is a pretty tough act to follow.
Osheaga's setting in the newly-renovated Parc Jean-Drapeau is one reason it's so unique. The park sits on two islands—Saint Helen's and Notre Dame—along the Saint Lawrence River, just outside downtown Montréal, so it's a peculiar collision of landscapes and textures.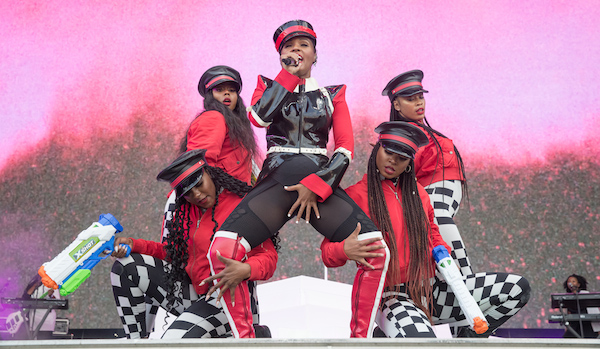 Janelle Monae
The Saint Lawrence River provided a stark and steady calm to the festival's blaring bass, flashing spotlights and grooving attendees. The wooded areas were a much-needed alcove and a quaint, shaded passageway between stages. The renovated grounds allowed for an increase in capacity, but thankfully they designed plenty of routes to get to and from each stage, avoiding those mass migrations of people that often characterize other festivals. But the one natural drawback was the white gravel covering the ground of the majority of the site, resulting in clouds of easily-inhaled dust that made it impossible for your shoes to emerge completely unscathed by the end of the night.
The Montréal skyline is visible from several vantage points, most notably at the top of the hill where the very last few rows of fans were perched, watching the two main stages. As exhilarating as it is to have some of the world's brightest musicians sweating over you at the front barrier, stepping back to take in the whole scene at night was unsurprisingly picturesque.
Though not technically a naturally occurring feature, The Perrier Tree Stage livened up the traditionally bare festival tent setup—vast greenery was draped from the ceilings with green lighting and cannons that spewed smoky, cold air. There was a clear effort to make the grounds feel less sterile and more inviting via art installations and an entire area devoted to hammocks and comfy seating—not something you see at every festival.
Apart from raging crowds for acts like Childish Gambino, The Chemical Brothers, $uicideboy$ and Fontaines D.C., there wasn't a ton of rambunctiousness among the Osheaga faithful, and perhaps that's because recreational marjuana is newly legal in Canada as of October 2018. Friday drew the youngest crowd of the three nights with acts like Flume, J Balvin, Rosalía, Denzel Curry and Joji slated to perform, and the average age was probably around 20. These fashion-forward late teenagers and young millennials are clearly still rabid about the festival-going experience, but they were more than happy to sit back and soak it all in.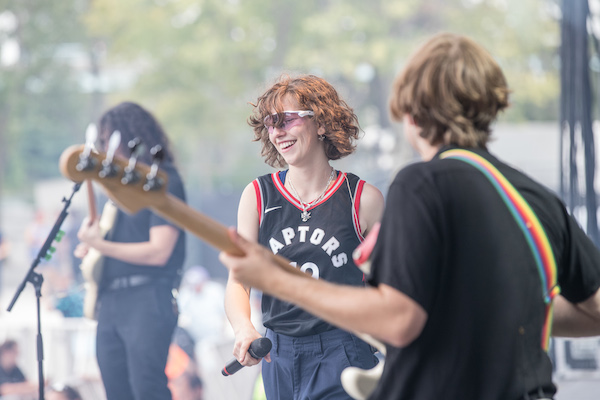 King Princess
The festival food offerings from local Montréal restaurants at the YUL EAT Gardens were delicious but pricey. The vast majority of the other grub options consisted of poutine, hot dogs, gyros, Canadian smoked meat sandwiches and then poutine at least a dozen more times. Paste's social media editor and our in-house vegan food columnist Annie Black also covered the festival, and we found it difficult to track down vegan options beyond mere frites, though props to the Mi Corazon food truck, which offered vegan burritos and dozens of yummy hot sauces.
Along with the food, the festival did a good job of showcasing Canadian talent. Artists like City and Colour, Anemone, U.S. Girls, Mac DeMarco, We Are Monroe, BRAIDS, Bambii, Anders and Bob Moses performed with a noticeable spring in their step. But Janelle Monae and Childish Gambino were by far the springiest two acts of the weekend. Monae performed in her typical, though far from ordinary, black, white and red get-up with at least five costume changes, a royal throne and empowering, fierce feminist lyric after empowering, fierce feminist lyric.
Donald Glover, the Atlanta musician, actor, stand-up comedian, producer, writer (plus probably several other jobs he can perform better than you) and overall creative luminary behind Childish Gambino, was unrelenting during his Sunday night headline slot. His dance moves were suave yet commanding, and the crazed look in his eyes told a million stories. At one point in the set, Glover went backstage for a breather, and while still on camera, he poured a sizable bottle of liquor over his head.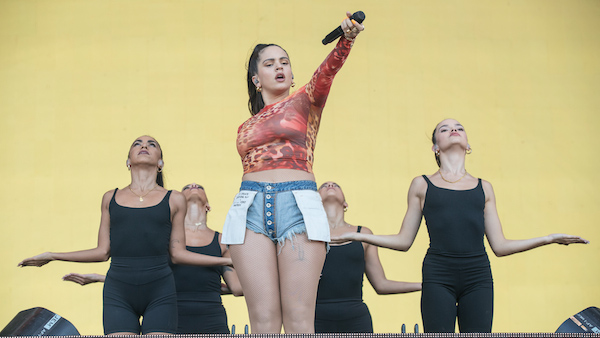 Rosalía
Before Childish Gambino finished the weekend in spectacular style, there were plenty of other magical moments that built up to the finale. King Princess rallied the queers and their allies for a tantalizing performance of hits like "1950" and "Cheap Queen." She teased and melted the hearts of the visibly infatuated audience with sultry sophisti-pop and lo-fi R&B.
Latin music fans were in for a treat with Rosalía, who put on the standout vocal performance of the festival. Songs like "BAGDAD," "Con Altura" and "MALAMENTE" were driven by her powerful, versatile vocal range and incredibly luscious, nimble voice. Anyone's skepticism towards the Spanish singer's precipitous rise would be immediately crushed by her live pipes. Frequent collaborator and fellow Latin star J Balvin was also scheduled to perform, but his set was cancelled due to New York City airspace restrictions, which prevented him from flying to Montréal. Though the cancellation was made late in the day, Osheaga organized a main stage DJ set from Toronto electronic duo MSTRKRFT (aka Al-P and Jesse F. Keeler from Death from Above 1979) instead, and though there were many disappointed fans, it's impressive that the festival supplied a substitute so quickly.
Two of the most theatrical performances came from U.S. Girls and Francis and the Lights. U.S. Girls' Meg Remy (one of the most mindful, artistically inclined performers I've ever watched) danced like an insane asylum escapee, running through the sparse areas of the audience as fans joined her in celebratory fashion. Francis and The Lights had moves as well, performing the entire choreography from his "Friends" video with Bon Iver and Kanye West, which closed his set with sweaty passion.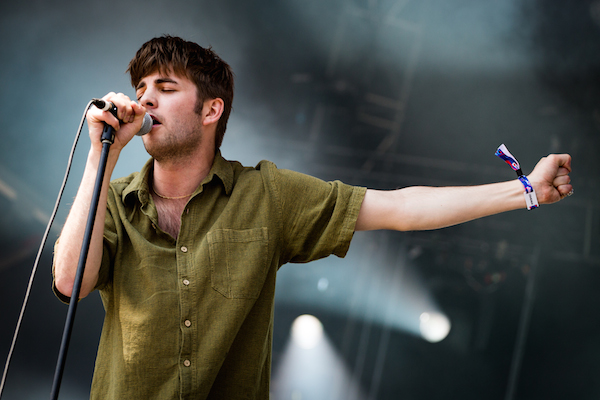 Fontaines D.C.
The visual highlight of the festival was The Chemical Brothers, whose child astronaut and superhero graphics had a colorful innocence, while the antsy, abstract and human-like figures paired perfectly with their pulsing maximal beats. With confetti, giant balloons and festival-goers frolicking in the glowing, blue fountain, The Chemical Brothers' set was on another planet altogether. And as for the Osheaga crowd's finest hour, one has to commend their showing for Fontaines D.C. While the moshpit of another artist, Sam Fender, had to be requested by the man himself during a song that had no tell-tale moshing qualities, the moshpit at Fontaines D.C. was the only organic one I came across. Fontaines D.C.'s rollicking guitars and frontman Grian Chatten's Irish speak-sing were elevated tenfold.
All in all, this year's Osheaga was well-organized and packed with memorable moments from some of the year's buzziest musicians. The lineup may not have been adequate for those seeking a more aesthetically diverse experience and less major label giants who have jaw-dropping Spotify followings, but seeing Montréal's youth remain on the same wavelength for three days—and hearing them sing along with buskers in the metro station after the festival ended—was inspiring.
With a nice ticket discount courtesy of the fine Canadian currency (2019 one-day tickets went for approximately $95 and three-day passes were around $250), Osheaga offers Americans who might normally travel to attend Chicago's Lollapalooza or NYC's Governors Ball the chance to experience a major music festival that's both familiar and different. With a more unique backdrop and festival bookers that are hungry to both please and surprise, Osheaga 2020 (July 31-Aug. 1-2) should be on your summer festival radar.