The Disappearing Art of Bar Band Music
A Curmudgeon Column
Photo by Phil Han/Getty Images
Music
Features
NRBQ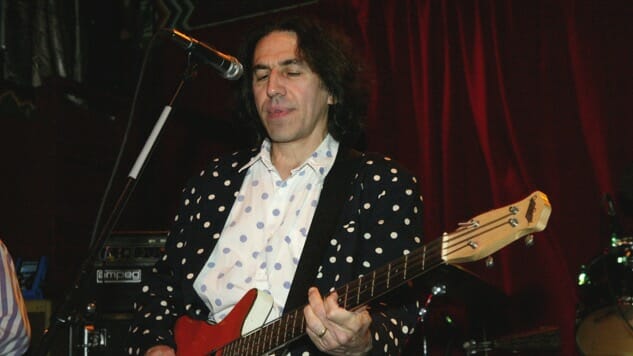 The 1978 album NRBQ at Yankee Stadium boasts a delightful visual joke. The title suggests that the band had been documented playing for 50,000 screaming fans, much as the Beatles had at Shea Stadium 13 years earlier. But the album cover is a photo of the cavernous ballpark entirely empty except for four tiny figures sitting behind the first-base dugout. On the back cover those figures are spied through a pair of binoculars and revealed to be Joey Spampinato, Al Anderson, Terry Adams and Tom Ardolino of NRBQ.
The joke was deepened by the fact that NRBQ was still playing bars a dozen years into their career—and would still be doing so three decades later. Critics took to calling them "the world's best bar band," a label that was both a blessing and a curse. Sure, everyone wants to be the best at something, but no band wants to be consigned to a career in noisy, poor-paying barrooms.
That fate was especially galling to a band like NRBQ, which wasn't so different from the Beatles after all. Bassist Spampinato wrote and sang lovely McCartneyesque ballads. Guitarist Anderson played lead and wrote songs as if he were channeling Carl Perkins, just as George Harrison had. Keyboardist Adams was the focal point; his Lennon-like irreverence kept pushing boundaries, though he drew more from Sun Ra than from Bob Dylan. And Ardolino was the Ringo-like drummer.
But spending your life in bars rather than stadiums affects how the music comes out. The Beatles scaled their music to conquer the world, while NRBQ scaled theirs to entertain a barroom full of bohemian and working-class drunks. As a result, their lyrics were more down-to-earth; they were more likely to extol the pleasures of "Ridin' in My Car" than to speculate on how many holes it takes to fill Albert Hall. They were more likely to record in the studio as if they were playing in a club: no backwards tapes or string quartets, just bass, guitar, keys and drums bashing out insanely catchy tunes.
The bar-band life encourages two healthy tendencies: a willingness to embrace multiple genres and an unbridled sense of humor. This music shouldn't be confused with garage-rock, for garages are as different from bars as bars are from stadiums. Garage-rock is all about blowing off steam and venting pent-up feelings, while bar-band music is all about keeping a crowd in close quarters laughing, dancing and drinking. Playing for a close-up club audience yields a very different kind of music than playing for imaginary listeners in a garage or a faceless, far-off audience at a festival.
Back when they were still a bar band in Hamburg and Liverpool, the Beatles covered Chuck Berry's R&B, Gene Vincent's rockabilly, the Olympics' doo-wop and Nat King Cole's pop crooning, just as NRBQ would later cover Thelonious Monk's jazz, Johnny Cash's rockabilly and Big Joe Turner's blues. The Beatles knew how to make audiences laugh with songs such as Fats Waller's "Your Feet's Too Big" and Carl Perkins' "Lend Me Your Comb," just as NRBQ could with "Howard Johnson's Got His Ho-Jo Working" and "Crazy Like a Fox." The Beatles left the bar-band phase of their career behind, but NRBQ never has.
That's a good thing, because we listeners need both the grand ambitions of stadium music and the earthy intimacy of barroom music. No one did the former better than the Beatles, and no one has done the latter better than NRBQ. The proof is on the recently released NRBQ box set, High Noon—A 50-Year Retrospective. All five CDs showcase the underrated pleasures of bar-band music, but discs three and four, which concentrate on the classic Spampinato-Anderson-Adams-Ardolino line-up, are bar-band music at its best.
Bob Dylan, Paul McCartney, Elvis Costello and Keith Richards all shared their admiration of NRBQ with interviewers, and NRBQ songs have been recorded by Bonnie Raitt, Los Lobos, Dave Edmunds, Steve Earle, R.E.M.'s Mike Mills and Spongebob Squarepants. And a lot of terrific songs are still waiting to be covered by some savvy indie-rock band. It's no surprise that Anderson became one of the top songwriters in country music after leaving the band to settle in Nashville.
He was replaced on guitar by Joey Spaminato's kid brother Johnny. But in 2004, the band went on hiatus after Adams developed throat cancer; he rebounded but Ardolino succumbed to diabetes in 2012. An Adams-led version of the band is still semi-active (and featured on the first disc), but the band's golden era as a three-headed monster has passed.
Pop music needs bands like NRBQ. We need groups with multiple lead singers, eclectic taste, catchy tunes, a bash-it-out rootsiness and a good sense of humor. Who can fill that role today?
For the '90s and '00s, the Holmes Brothers filled that role admirably. The rural Virginia trio had three impressive lead singers, two strong songwriters, a witty irreverence and equal facility at blues, gospel and country. They recorded with Van Morrison and Joan Osborne, but spent most of their time in East Coast bars. Their era ended, however, when two-thirds of the group died in 2015.
Phil and Dave Alvin, co-founders of the Blasters, have filled the role in their recent duo tours and recordings. They're both lead singers; Dave's a great songwriter; they sing everything from R&B and rockabilly to gospel and blues, and they have an irrepressible sense of humor. But they're both in their 60s. Who are the younger bands that satisfy our craving for great bar-band music?
The Tedeschi-Trucks Band was a possibility, but as they've graduated from clubs to theaters, their music has scaled upward and has lost its intimacy. The same could be said of the Mavericks, the Neville Brothers, Alabama Shakes, the Ben Folds Five and many more. Changing your sound as you change venues is inevitable: the loosey-goosey spontaneity and joking that's charming in a barroom can seem sloppy at a theater or festival. And the new generation of bands is usually too narrowly focused on one subgenre of music to echo the NRBQ pleasures of crossing boundaries.
One good candidate for the future of bar-band music is the Hard Working Americans, the funny, lively jam-band led by singer-songwriters Todd Snider and Neal Casal. They're not afraid to cover good songs in any genre nor to change their sound from number to number. There are probably more contenders out there flying under the radar.
But the best bar-band of the moment is undoubtedly the Bottle Rockets. They only have one lead singer, but Brian Henneman writes wonderful songs in both the comic and tragic modes, and the group is flexible enough to play hard-rock, country twang and Springsteenish anthems; they even recorded a tribute to Doug Sahm. They're too good to still be working in bars a quarter-century into their career, but they've responded to the hand fate has dealt them by emphasizing the qualities that make bar-band music such a special experience. They're the legitimate heirs of NRBQ.