Nothing But Thieves Perform a Stirring Cover of Gang of Youths' "What Can I Do If The Fire Goes Out?"
Images courtesy of Triple J/YouTube
Music
News
Nothing But Thieves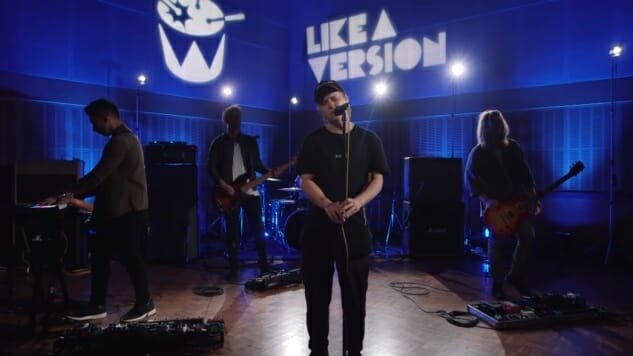 Nothing But Thieves performed at Triple J Friday morning for Like A Version. The English alternative-rock band played "Amsterdam," off their most recent album Broken Machine, and covered "What Can I Do If The Fire Goes Out?" by Gang of Youths.
For their cover, Nothing But Thieves transformed the rock song into a ballad—or at least it starts that way. Cutting the lengthy intro entirely, vocalist Conor Mason jumps straight in, singing, "This is the sound of a soul in tune," backed only by a keyboard. Mason's vocals build from a hush, and as the song progresses, both his voice and the surrounding instruments intensify. They capture the song's emotional turmoil through a gradual transformation from ballad back to the original rock style. It is at the second verse that a rushing change begins: The guitars enter and drummer James Price moves off a drum pad to engage his full kit. "I wanna taste and see if the Lord is good," Mason sings, his body language channeling the song's increasing energy through erratic, twitchy dancing. It's toward the end that we finally get to hear the recognizable guitar part from the original track, which they dropped from the intro and previous chorus. At its wailing peak, the song quickly slides back into the stripped-down beginning sound of just piano and vocals.
Think this may be the best thing we've ever done haha. Cheers @triplej#LikeAVersion and cheers @gangofyouths for writing such an incredible song https://t.co/Y7eqHqiApt

— Conor Mason (@NBTConor) August 10, 2018
The band has a fall tour lined up before "going into hibernation" for a bit. They're playing in the United States through September and October, after which they have some dates scheduled in the EU and U.K. You can find tickets and full tour dates here.
:: Calling all tour adorers… tickets for our EU + UK tour are on sale NOW: https://t.co/3VbmGARSKx We're going into hibernation for a bit after this so we're gonna make it special. Let's have it. :: pic.twitter.com/3Z8rtpCMqj

— Nothing But Thieves (@NBThieves) June 8, 2018
Watch Nothing But Thieves cover Gang of Youths' "What Can I Do If the Fire Goes Out?" at Triple J below and listen to the original version further down.