Total Album Consumption in the U.S. Rose by 23 Percent in 2018, According to Nielsen
Photos by Mike Coppola/Getty, Ian Waldie/Getty
Music
News
Nielsen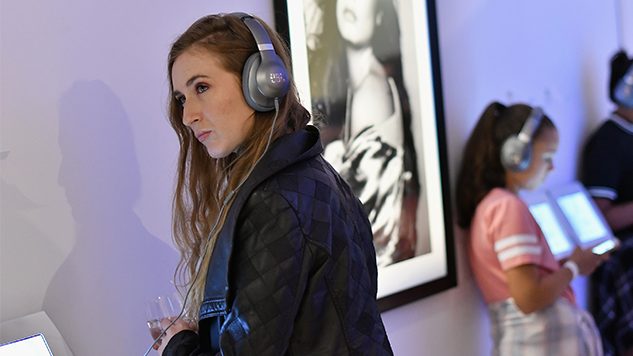 Surprise, surprise—we listened to a hell of a lot of music last year. There's no better way to easily indulge in escapism or catharsis, so it's no wonder that during the godawful year that was 2018, Americans increased their total album equivalent audio consumption by 23 percent compared to 2017, according to Nielsen Music's year-end U.S. report.
For the uninitiated, Nielsen qualifies total album equivalent audio consumption as "the number of physical and digital albums that were sold and the total number of album equivalent songs from downloads and song streaming volume."
This large rise in total album audio consumption was driven by a 49 percent jump in on-demand audio streams up from 2017 figures. That works out to 611 billion on-demand audio song streams in 2018.
It's no surprise that streaming is king, while digital purchasing experienced a sharp decline. The vinyl trend is also appears to be here to stay, with those sales increasing by 15 percent during the same period last year with record-breaking sales over the week of Record Store Day.
David Bakula, SVP Industry Insights at Nielsen Music, attributes the increase in music consumption to "increased access to music with new smart speakers and connected devices that have helped catapult engagement and consumption to record highs." With the advent of 5G on the horizon, Bakula says they expect these numbers to continue to soar.
While all of this is fairly benign to music consumers, it spells out the continued decline of the music industry as we know it. Streaming provides paltry pay to many, except for the biggest of artists. Making music a profitable career for artists who don't break millions of plays simply isn't built into the world of streaming.
Speaking of millions of plays—excuse us, billions—Drake led the pack with "God's Plan" as the top-streamed on-demand song (combining audio and video) with over 1.5 billion total streams. The track topped the Billboard Hot 100 for 11 weeks and also led total song consumption. They say the only things certain in this world are Drake and taxes.
Perhaps one of the most laughable trends of 2018 documented by Nielsen is the "Triumphant Return of Women." Women definitely made noteworthy strides in music last year, including Cardi B's becoming the first female rapper to bag two solo No. 1s on the Billboard Hot 100. However, the fact that female musicians were featured or lead artists on the Billboard Hot 100 for just 18 weeks in 2018, up from eight in 2017, shows we are only now eking out representation. Call us when we get to 26 weeks.
Nielsen also documented the rising popularity of Spanish-language music, such as "I Like It" by Cardi B, Bad Bunny and J. Balvin, which garnered over 873 million on-demand streams in 2018. Americans' music tastes are becoming ever-more international, as 2018 also saw songs by multiple K-Pop acts rising on the Billboard Hot 100 and other charts. BTS achieved widespread success with their second album Love Yourself, which debuted at No.1 on the Billboard 200.
Now let's see what 2019 has in store for us.