Spotify Responds to Nicki Minaj Tweets Claiming Unfair Treatment
Photo by Frederick M. Brown/Getty
Music
News
Nicki Minaj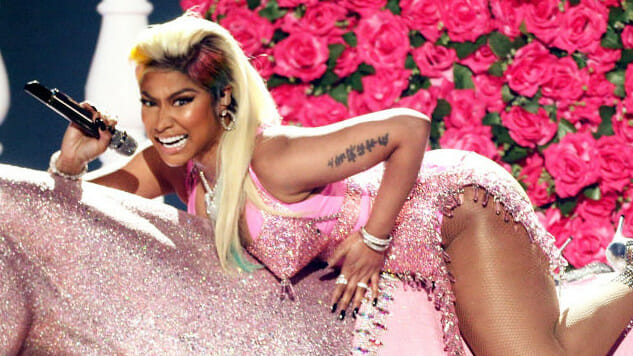 After the tumultuous rollout of her new album Queen, Nicki Minaj still can't catch a break, as Monday, a Spotify rep responded to her tweets claiming unfair placement by the service.
Queen debuted at No. 2 on the Billboard album chart, behind the second week of Travis Scott's ASTROWORLD. In a lengthy tweetstorm, Minaj explained her chart position, using everything from Scott's use of merch and tour bundles, and his girlfriend Kylie Jenner's social media platforms, to Spotify's taking away her album promo due to Queen Radio, her radio show on Spotify rival Apple Music.
Travis sold over 50K of these. With no requirement of redeeming the album! With no dates for a tour, etc. I spoke to him. He knows he doesn't have the #1 album this week. I love my fans for the #1 album in AMERICA! I'll explain on #QueenRadio 4 albums in, #1 in 86 countries pic.twitter.com/CiYEuczgm3

— QUEEN (@NICKIMINAJ) August 19, 2018
I looked at the numbers the Carters, Kanye, Nas, etc recently did. Travis sold 200K in his first week of clothes alone. I spoke to him last night & he said he's been selling clothes b4 the music. Billboard says they'll change the rules cuz of this, so it should be changed now!

— QUEEN (@NICKIMINAJ) August 19, 2018
I put my blood sweat & tears in writing a dope album only for Travis Scott to have Kylie Jenner post a tour pass telling ppl to come see her & Stormi. lol. Im actually laughing. #Queen broke the record of being number 1 in 86 countries. Thank Jesus & thank you to my fans.

— QUEEN (@NICKIMINAJ) August 19, 2018
Minaj also alluded to Spotify's infamous overpromotion of her label-mate and fellow Apple Music host Drake's Scorpion in her tweets.
Spotify had to teach me a lesson but rewarded the man who has had an Apple radio show the longest; inadvertently helping the Apple platform the most. Oh I can't wait for #QueenRadio on Tuesday. They took away my promotion they had promised for the 1st cpl days b/c of this. #Queen

— QUEEN (@NICKIMINAJ) August 19, 2018
While the stars mentioned in Minaj's tweets have yet to respond, a rep for Spotify responded to Minaj's claims of being penalized by the service.
"Spotify supported Nicki Minaj with a Times Square billboard, a host of the largest playlists, New Music Friday, and the music release shelf," the rep told Variety. "Her song 'Bed' actually saw an increase based on the promotions put behind the campaign. The company continues to be big fans of Nicki."
In June, Minaj launched a fiery direct message at writer Wanna Thompson after she posted a tweet critiquing her music prior to the release of Queen.
Nicki Minaj exhibited #Queen behaviour when she hopped in my DMs and insulted me numerous times over an innocent music opinion while her fans continue to harass me and DM me death threats. This is NOT okay. pic.twitter.com/bJI9TVvJV7

— Wanna (@WannasWorld) July 1, 2018
Minaj is set to embark on the co-headlining NICKIHNDRXX Tour with Future starting Sept. 21, sales from which were included in the first-week numbers for Queen, according to Billboard. While Queen hasn't landed quite where she wanted in its first week, the embattled rapper is running short on excuses if it underperforms in the coming weeks.